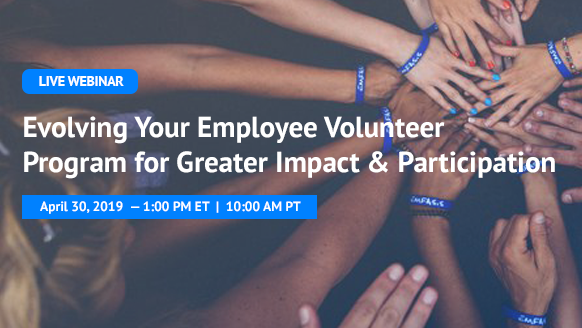 About 84% of companies view volunteer opportunities as an important way to engage employees. Yet 1/3 of employees don't give through their workplace giving programs because they're not able to choose causes that matter to them.
Join us on Tuesday, April 30 from 1:00 PM - 1:45 PM EDT for our live discussion with employee volunteer leaders at Nielsen and U.S. Bank. You'll hear insight into what makes their programs successful, emerging CSR trends, and innovative solutions to jumpstart your employee participation.
---
DOWNLOAD: The Most Impactful Employee Volunteer Programs You Need to Know About
---
By empowering their employees to pursue real-time volunteer needs in their communities, our panelists have successfully scaled their programs across state lines and increased participation in the process. Come prepared to learn strategies you can bring back to your own program.
The Panelists will also share meaningful ways they've partnered with nonprofits to deliver exceptional campaigns focused on amplifying impact, engaging employees and increasing volunteer hours logged. You'll also hear what it takes to align your organization more closely around the United Nation's Sustainable Development Goals (SDGs).
We encourage you to ask questions before the webinar by filling out this short survey any time between now and April 29. Spaces are limited, so register today. We look forward to having you join the conversation.