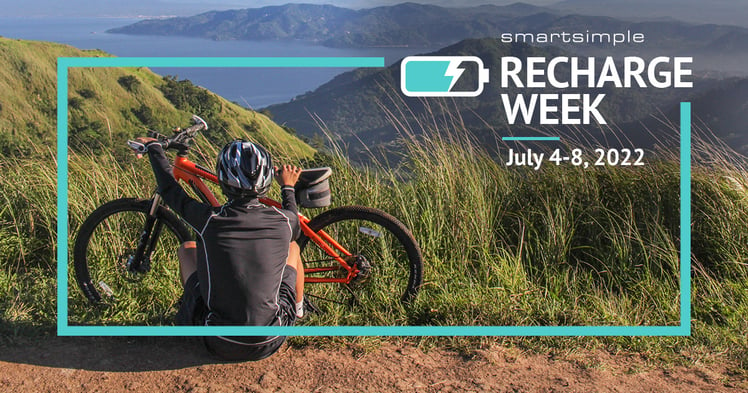 Being innovative, solving hard problems, and doing things that have not been done before takes continued effort and over time can lead to exhaustion.
SmartSimple acknowledges this and has invested heavily in the health and well-being of all employees. Key initiatives include reduced summer hours, 'get outdoors' hours, mental health huddles, and most recently, Global Recharge Weeks, where all SmartSimple employees receive paid time off.
The results from last year's Global Recharge Weeks were very positive. Our employees returned feeling refreshed and we saw the benefits of it upon their return.
Due to the success of our last two recharge weeks, we've decided to bring it back for a third time. For the first week of July, from Monday 4th to Friday 8th, SmartSimple will be closing most day-to-day business operations. During this Summer's Global Recharge Week, SmartSimple employees will be taking time off to revive, refresh and recharge.
It is our intention to continue to bring you the solutions and support you need with the highest quality, and this initiative will empower our staff to continue giving you even more.
How will this impact support coverage?

During this week, we'll be operating with a reduced Support staff, but we'll still be available to resolve your urgent issues.

Our Support team will triage and respond to all Level 1 - Emergency / Critical and Level 2 - High Impact

severity issues

within our SLA.
Support will be available from 3:00 AM to 11:59 PM ET Monday to Friday to assist with urgent issues.
As always, for Level 1 - Emergency / Critical

issues, contact us at

critical@smartsimple.com.
All non-critical or high-impact severity support tickets and emails will be responded to in the following week starting Monday, July 11th.
Live chat coverage will NOT be available.
For clients with Premium Support, your Technical Advisor will reschedule any meetings dated for that week.
If you require non-urgent assistance, we encourage you to explore our resources within the SmartSimple Wiki, our YouTube channel, andPast Webinars & Virtual Events page.

We appreciate your understanding as we work to create space for the SmartSimple team to rest and recharge.
Need to get in touch with our Support team?




You can reach SmartSimple's Support team by dialing our toll-free number at 1.866.239.0991 or emailing support@smartsimple.com. To learn more on how SmartSimple supports our client community, visit our Support page.