Expanding Your System with Platform3 Modules
Tuesday, August 18 at 12:00 – 12:30 PM EDT | 9:00 - 9:30 AM PDT
Did you know that your system is hosted on the third generation of the SmartSimple platform called Platform3?

Many clients (including SmartSimple!) use Platform3 to manage a variety of different business processes. In this webinar, we will be discussing and showcasing other modules that people are using in their systems to give you an idea of the diverse uses of Platform3 that may spark new ideas on how you may want to utilize other modules in your system.
Presenter: Eric Lauer, Co-Founder and Director of Customer Experience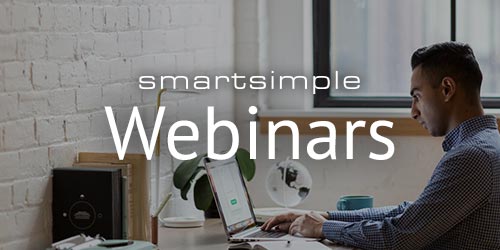 Submission Denied: Ensuring Applications are Complete
Wednesday, August 19 at 12:00 – 12:30 PM EDT | 9:00 - 09:30 AM PDT
Have you ever reviewed an application only to find some key information is missing? Start date after the end date, single-word answers, etc, SmartSimple includes a number of validation tools to ensure that the chances of this happening are minimized.
Presenter: Greg Stanley, Platform Solution Manager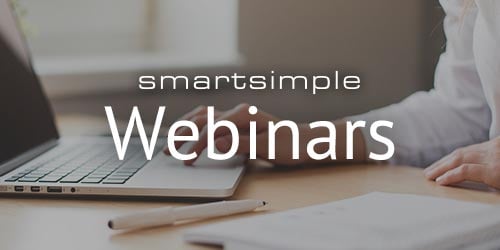 The Next Step: Evaluating and Sharing Your Impact
Thursday, August 20 at 12:00 – 1:00 PM EDT | 9:00 - 10:00 AM PDT
Determining how you will aggregate your data, how you'll visualize and present that information, how to build your impact narrative – and how it should change over time – can be the difference between merely collecting data and actually evaluating and sharing your results in a meaningful way. For this webinar, we've partnered with America's Charities, which has inspired employees and organizations to support the causes they care about for 40 years.
Together, we will talk through the solutions to questions they've received from 750 organizations that are struggling to measure and share their results. We will show you methods for reflecting on your company's goals, tools to visualize your data and help you benchmark your efforts against peers and competitors and, ultimately, we'll help you make informed decisions about how to improve and refine your impact measurement.
Presenters:
Jim Starr, CEO, America's Charities
Dan Eardley, Senior Platform Solution Manager, SmartSimple Software