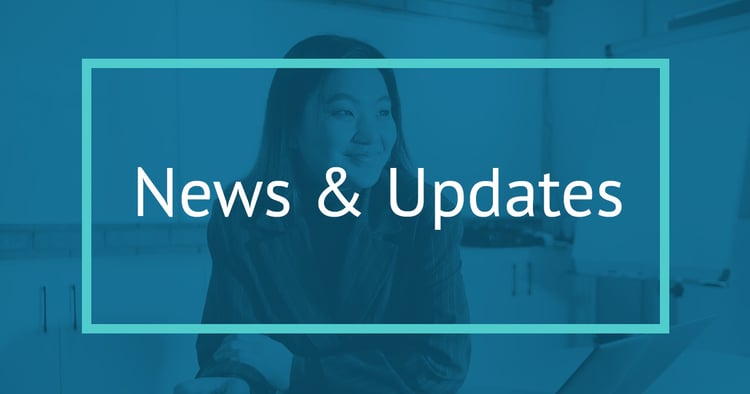 March was a busy month of firsts. The first signs of spring, our first major conference of the season, the opening of our brand new US office, and a new integration added to our Marketplace. Yet with all of that, we still prioritized the importance of celebrating International Women's Day.
If March came in like a lamb, it certainly went out like a lion.
We've moved! SmartSimple US gets a new address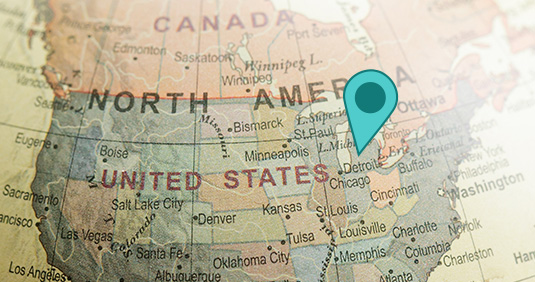 On March 1st, we officially moved our US offices to Grand Rapids, Michigan. The move doesn't affect or change our support and service to our US-based clients, but please be sure to update your records with our new address:
38 W. Fulton Street, Suite 301
Grand Rapids, MI
49503 USA
Our contact information remains the same, and you'll still be able to reach us toll free at 1.866.239.0991 or by email at info@smartsimple.com with any questions or support needs.
Celebrating International Women's Day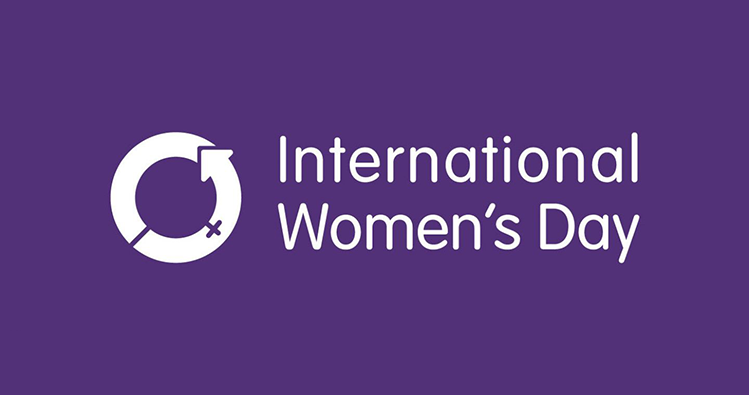 March 8 marked International Women's Day (IWD), and while it's always been an important day for us, this year marked our biggest celebration of IWD. We had activities planned and run by a number of employees that included an IWD-themed company-wide huddle, a special curated Spotify playlist, and participation at a special IWD event in Dublin, Ireland.
This year's support of IWD also included donations to a number of related causes including the Women's First International Fund.
Read more about SmartSimple's International Women's Day activities and contributions.
March 2022 Upgrade Recap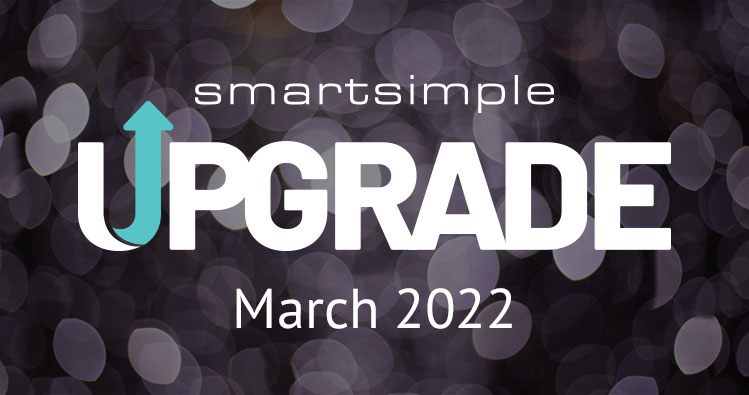 Earlier this month, we went live with our latest upgrade. If you didn't have a chance to attend our live upgrade overview sessions, you can watch the upgrade overview here. You can also find the full upgrade release notes on our Upgrade Wiki page.
If you have any questions about the latest enhancements from this upgrade, please contact the Platform Solutions Team.
March Ask the Expert… in April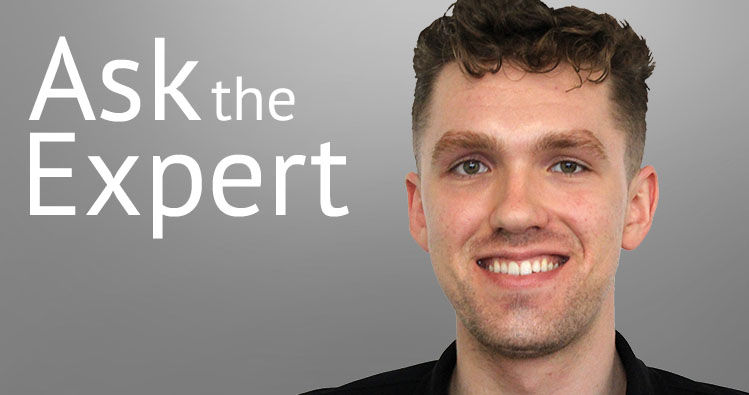 With the Peak conference now in the rearview mirror, we're able to free up resources again to provide our regularly scheduled program. For our next Ask the Expert session, we're going to be talking about some of SmartSimple Cloud's best-kept secrets. With so many features in the platform, there are some valuable features that often get overlooked. In this session, we'll be placing the spotlight on these features.
Join Garrett, Morgen, and Banky from our Platform Solutions Team as they look at visualization in your system, files, and list views to help you get even more out of your solution.
Marketplace Corner - Introducing the Impact Genome Project® (IGP) Integration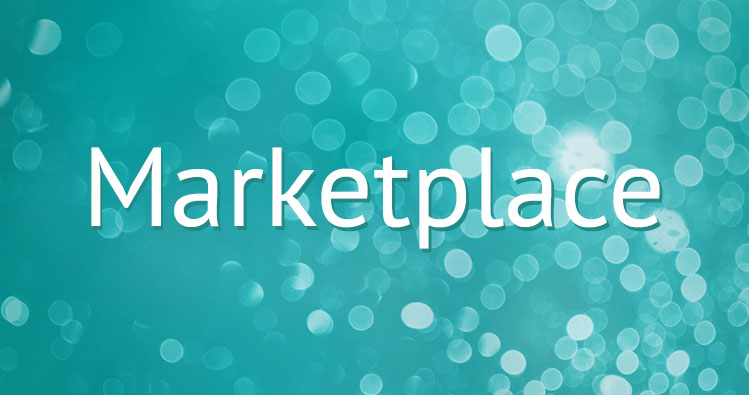 This month, we added a new integration to our Marketplace with the IGP's impact registry. SmartSimple is the first grants management system to integrate with the IGP.
The IGP's impact registry is a repository that makes due diligence more efficient, important for effectively implementing trust-based grantmaking strategies.
SmartSimple Cloud's integration with the impact registry also streamlines the way you work while also reducing the administrative burden for nonprofits through common grant applications.
Read more about the Impact Genome Project.
New Faces at SmartSimple
This month, we're introducing a new section to our monthly newsletter, "New Faces at SmartSimple". With our team growing, this is our opportunity to introduce our newest team members to you.
Joan - Technical Proposal Writer
Joan is the newest team member to be joining our Capture team. Based in Ireland, she will be assisting with RFP (Request for Proposal) responses as well as other technical writing projects.

In her own words: "I'm delighted to be working for SmartSimple and I've just started as a Technical Proposal Writer. I have worked in desktop publishing and web development before moving into technical writing."
Jazmine - Implementation Consultant
Jazmine will be joining our Deploy team as an Implementation Consultant. Based in the US, Jazmine brings a wealth of knowledge and industry experience having previously worked in both nonprofit and non-governmental organizations (NGOs).

In her own words: "With experience in nonprofit and non-governmental organizations, I was eager to join SmartSimple Software. Armed with new aptitudes, I'll utilize my knowledge to offer innovative, configurable solutions to clients across diverse markets. I'm proud to be part of a company that continually initiates, nurtures, and sustains the relationships between individuals and groups."
Please join us in welcoming Joan and Jazmine to the SmartSimple community!
We're Hiring!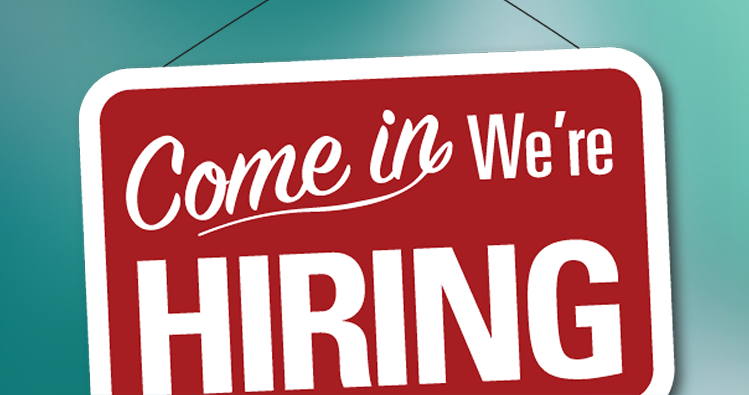 We're always looking for eager, energetic, and talented people to join our team. If you know someone, we'd love to have a chat with them!
We have a number of positions that we're currently hiring for. Check out our latest openings.
Spring has sprung and we have another exciting month ahead. Have a great day!
The SmartSimple Team