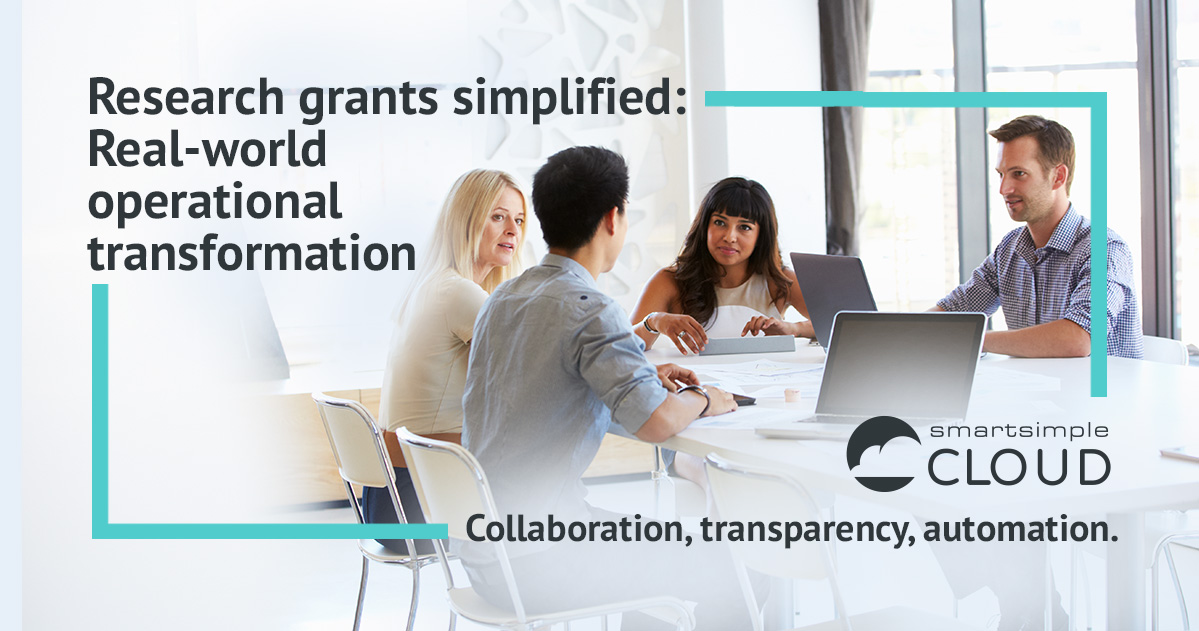 Real-world operational transformation for three leading Canadian organizations with SmartSimple Cloud
In the heart of Canada's innovation landscape, research grants drive progress and foster discovery. However, managing these grants efficiently and effectively is a challenge many organizations face. As Canadian grant-providing institutions search for streamlined solutions, SmartSimple Cloud emerges at the forefront. Dive into the transformational journeys of three leading Canadian research granters, SickKids Foundation, Child Development Institute (CDI), and Saskatchewan Health Research Foundation (SHRF) who embraced the power of SmartSimple Cloud to better manage their research grant processes.
SickKids Foundation: Enhancing national collaborations in pediatric research
While funding Canada's future child health game changers, SickKids Foundation was battling fragmented data systems that stifled its dynamic national research operations. Effective communication with national collaborators became a pressing need. With SmartSimple Cloud, SickKids Foundation realized:
Centralized data management: A single platform consolidates all project data, ensuring accuracy and efficiency.
Unified team efforts: Integration across submission and peer review stages for better, faster decision-making.
Enhanced stakeholder communication: Clearer and more effective engagement with national partners.


"I admire SmartSimple for its innovative nature. The senior management understands their clients well, offering expert guidance within a welcoming and amiable environment."
Pam Gilliland, Granting and Hospital Relations Manager,
SickKids Foundation
Child Development Institute (CDI): Building a robust implementation data system for scaling and tracking evidence-based children and youth mental health and crime prevention programs
Pushing boundaries in child intervention programs, CDI was hamstrung by its reliance on spreadsheet-dominated processes. With the implementation of a SNAP National Expansion strategy, CDI needed an innovative and intuitive system for this major scaling project of implementing SNAP in over 100 communities across Canada. The system needed to track and monitor all the critical activities across the implementation process including outcome/fidelity monitoring for its extensive network of key stakeholders and contacts. The adoption of SmartSimple Cloud brought forth:
Consistent data collection: Standardized processes ensure data consistency, reduce errors, and increase trust in all insights.
Efficient workflow management: Tailored workflows dramatically reduce administrative delays, achieving more in less time.
Transparent outcome monitoring and tracking: Clearer oversight of data every step of the way.
Real-time data analysis: Seeing a client's progress through their treatment journey.
"We're changing the landscape of how children's mental health and crime prevention is addressed. SmartSimple and reSolved have been instrumental in this process."
Dr. Leena Augimeri, CDI Director, Program Scaling and Strategic Partnerships & SNAP Co-Founder
Saskatchewan Health Research Foundation (SHRF): Elevating application management and reporting in health research
Championing health research in Saskatchewan, SHRF refused to allow a cumbersome data management tool stifle their work. Their aspiration for a system up to the task of supporting a comprehensive and user-friendly granting process called for an intuitive and flexible research grants management solution. SmartSimple Cloud stepped in with:
Optimized application management: Simplifying the review process with effortless application assignments.
Automated assessments: Ensuring peer review information reaches the right hands without manual interventions.
User-friendly reporting: Positive feedback on the system's usability increases stakeholder satisfaction.


"SmartSimple Cloud provided a well-integrated platform that supports our drive for excellence and innovation. The ability to easily make updates to forms and instructions allows us to be nimble, and the cross functional data access and automated processes streamline our work and ensure accuracy. Most importantly, applicants and peer reviewers have a good experience interacting with SHRF and can focus their energy where it counts!"
Karen Tilsley,
Director of Programs and Partnerships, SHRF
Embracing the future: Discover the transformational power of SmartSimple Cloud
The essence of SmartSimple Cloud's success lies in its ability to address the unique challenges of each organization, offering solutions that are both holistic and tailored.
From enhancing global collaborations to streamlining workflows and revolutionizing reporting mechanisms, the right technology is a catalyst for transformation in research grant management. If these narratives strike a chord with your organization's aspirations, it's time to discover the SmartSimple Cloud advantage. Contact us today, and let our experts introduce you to a new era of efficiency.