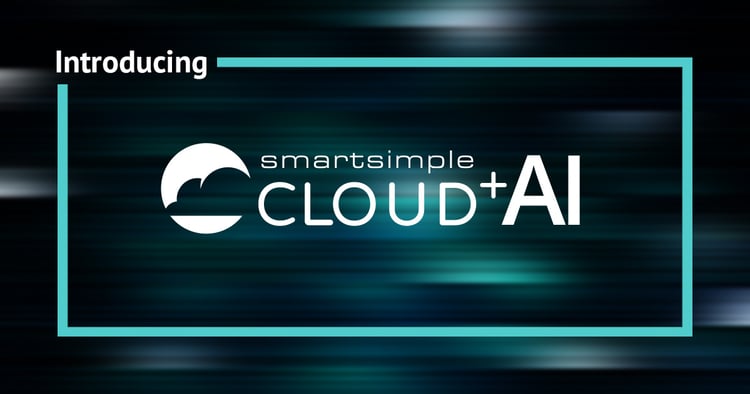 Advanced Artificial Intelligence (AI) will transform the future of work. With the introduction of SmartSimple Cloud +AI, our new product that integrates AI services into SmartSimple Cloud, organizations can employ AI-enriched workflows. This will help meet the specific needs of each work process and provide tailored experiences for all stakeholders.
It's the first fully integrated AI product across the markets we serve, deeply integrating text completion AI functionality, recently popularized by OpenAI's ChatGPT-3, into critical operational workflows. The product harnesses the powerful architecture of SmartSimple Cloud and enables organizations to securely enrich their operational data with AI in the context of their work.
"We believe that the advent of the AIs will release a torrent of innovation such as the world has rarely seen," said Mike Reid, SmartSimple Software COO, and Co-Founder. "By integrating the AIs into our platform, SmartSimple Cloud, and integrating early, we will unleash this power to our clients in support of their missions."
SmartSimple Cloud +AI enables each workflow to be enriched by AI in a manner unique to each organization, allowing for the further customization of workflows to meet the specific needs of each organizational process.
SmartSimple Cloud +AI has two modes of operation. The first mode is Automation, where the interaction with AI is fully automated. This mode is suitable for high-volume, repetitive tasks that can be streamlined with AI. It works by configuring artifacts such as web page views, email templates, and read-only fields to automatically interact with the AI and process the results of the interaction.
The second mode is Interactive, which is available in the context of a single object like an application or review and supports individual users in accessing the AI in the context of their work. This mode provides a more personalized experience for the user, allowing them to engage with the AI in a way that makes sense for their specific task. By using both modes of operation, organizations can create AI-enriched workflows that are tailored to the specific needs of each process, increasing efficiency and productivity across the board.
The illustration below shows the process of using SmartSimple Cloud +AI's Interactive mode to access personalized AI recommendations and insights within a specific task, helping to streamline workflows and increase productivity.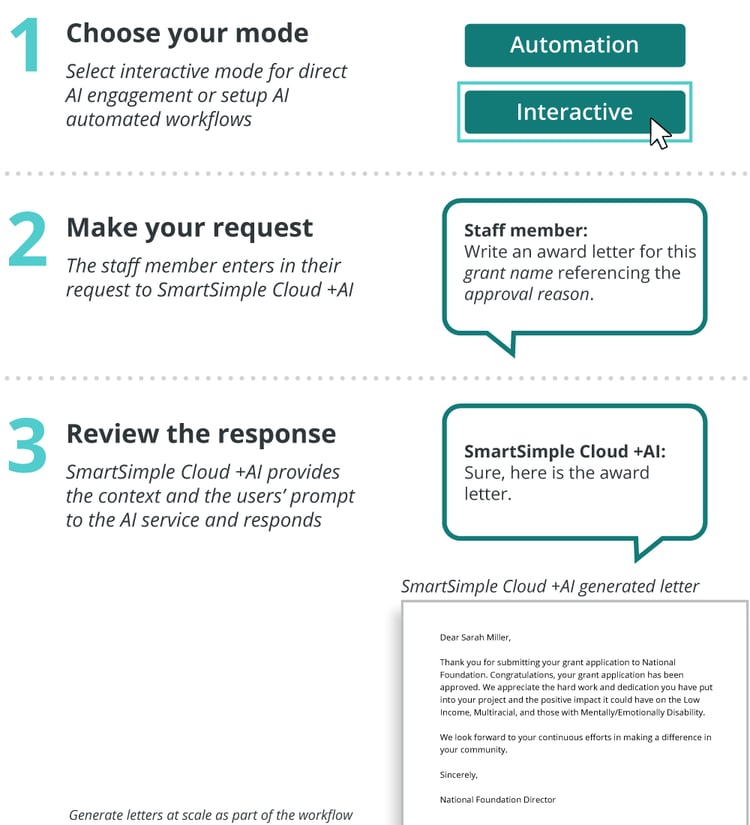 Exploring the potential uses will be a long and interesting journey for us and our clients, however, several strengths have already been identified. For instance, it can supplement and enrich data in real time, perform precise and automatic text summarization, and instant language translations, and enable personalized communications on a large scale. SmartSimple Cloud +AI is designed to support organizations across all stages of their business process, responding to both human and workflow-initiated queries. We anticipate our clients will explore and discover use cases that are tailored to their needs.
SmartSimple Cloud +AI leverages advanced AIs using Large Language Models (LLMs) like OpenAI and Google Bard and will support other AI services as they become available. SmartSimple Cloud +AI seamlessly integrates into the SmartSimple Cloud experience, allowing users to interact with AI within the SmartSimple Cloud user interface.
For those seeking answers to frequently asked questions, we invite you to download our comprehensive FAQ guide.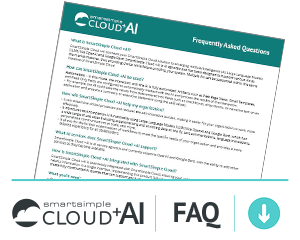 SmartSimple Cloud +AI is available today and can be subscribed to through the SmartSimple Cloud Marketplace.
Latest updates
Tuesday, August 15th - Introduced SmartSimple Cloud +AI's QuickTag feature. Visit this post to learn more.
Wednesday, May 31st - Introduced SmartSimple Cloud +AI's Instant Application Summaries. Visit this post to learn more.
Tuesday, April 25th - Introduced SmartSimple Cloud +AI's AI-Assisted Application Screening. Visit this post to learn more.
Wednesday, April 19th - Held the second SmartSimple Cloud +AI informative webinar
Thursday, March 30th - Introduced SmartSimple Cloud +AI's Supported Application Process. Visit this post to learn more.
Wednesday, March 29th - Held SmartSimple Cloud +AI product introduction webinar (over capacity)