Harness Artificial Intelligence (AI) to streamline grant application summaries during the application review stage of the grants management lifecycle
Reviewing applications has always been a foundational part of grants management. As processes have grown more complex, many organizations have incorporated grant summaries into their strategy. These summaries serve as a valuable tool for various purposes such as initial reviews, community sharing, and even in board books for board members. However, creating individual summaries for each application can be a daunting task. It's not only time-consuming but also challenging to maintain consistency, particularly for programs that receive a large volume of applications.
This is the problem SmartSimple Cloud +AI's Instant Application Summaries solve. Utilizing Artificial Intelligence (AI), Instant Application Summaries introduce new options for organizations to approach this challenge, making the summary process more efficient and consistent.
How Instant Application Summaries work
This AI-powered tool harnesses the power of Natural Language Processing (NLP) and Machine Learning (ML) algorithms to review the text within a grant application, extract the key points and summarize vital details.
By presenting the information in a succinct, understandable format, Instant Application Summaries enable grant managers to rapidly grasp the core elements of each application, saving time and effort that can be better spent on strategic decision-making rather than application summarizations.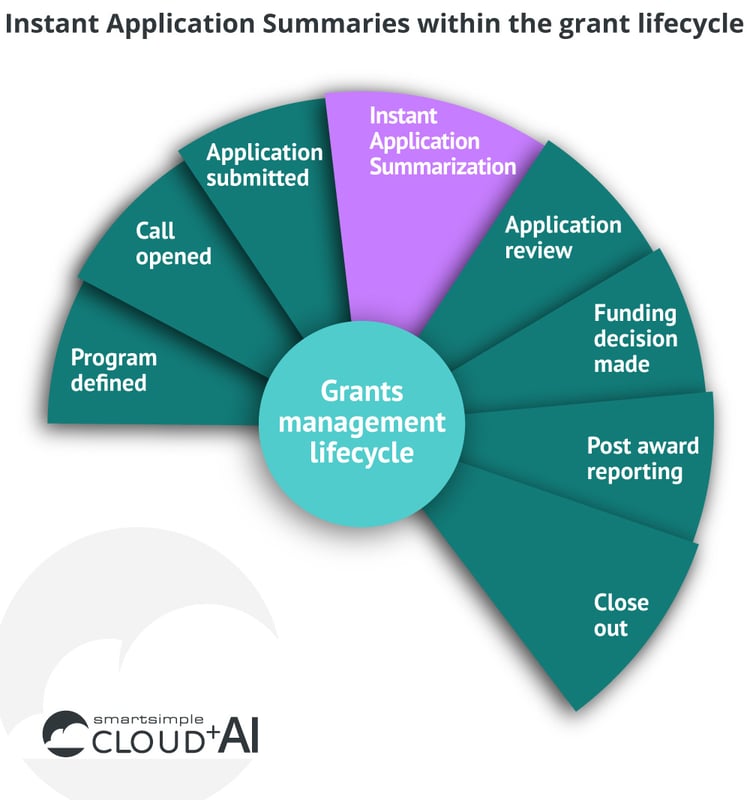 Benefits to grantmakers
Efficiency: Grantmakers can dramatically reduce the time required to review and summarize applications. This efficiency enables grants management teams to devote their resources to more strategic tasks.


Scalability: As the volume of grant applications grows, the Instant Application Summaries scales effortlessly, making it an ideal solution for large-scale grant programs.


Improved decision-making: With concise summaries at the grantmaker's fingertips, grant managers can make more informed decisions, leading to a more equitable and effective distribution of funds.


Consistency: Instant Application Summaries ensure a consistent approach in summarizing applications, that's often hard to achieve manually due to factors like fatigue or subjective bias. This ensures all application summaries receive the same level of attention and objectivity.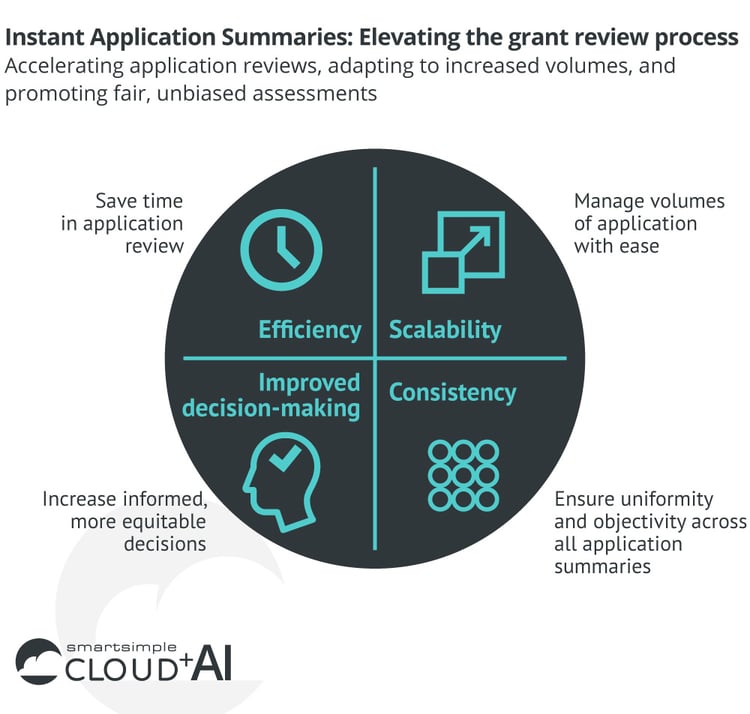 SmartSimple Cloud +AI's Instant Application Summaries is a transformative tool that harnesses the capabilities of AI to empower grantmakers through their important application review processes. By improving efficiency, guaranteeing consistency, providing scalability, and enhancing decision-making, it can be an important part of a streamlined, objective, and effective application review process within a grants management lifecycle.
As the field of AI advances, we can anticipate the emergence of even more transformative tools. For grant managers, staying abreast of these developments and understanding how they can be leveraged to improve processes and outcomes is essential. The future of grants management is here, experience it today with SmartSimple Cloud +AI.
To learn more about Instant Application Summaries, contact SmartSimple at platformsolutions@smartsimple.com or subscribe to SmartSimple Cloud +AI through the SmartSimple Cloud Marketplace.
If you missed the SmartSimple Cloud +AI launch, visit the launch post to learn more about this groundbreaking product.