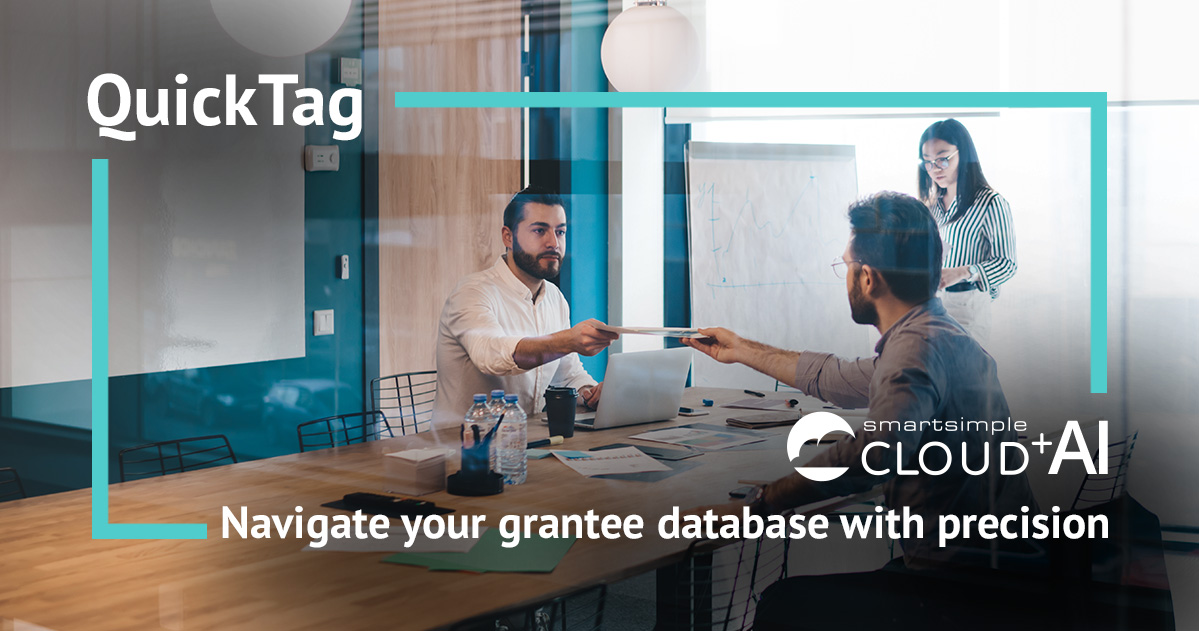 For grantmakers, efficiently navigating through a database of grantees and applicants can often be challenging. Grant Management Systems (GMS) are instrumental in tracking grantee data but typically lack the additional step of intuitively summarizing and classifying organizations by type. This results in grantee databases that are increasingly difficult to navigate over time. This makes everything, from database navigation to identifying similar organizations, much more difficult. Recognizing this gap, we present a novel feature called QuickTag.
The QuickTag feature
QuickTag is an AI-powered tool that takes SmartSimple Cloud to the next level. It goes beyond just storing organization data by automatically tagging each organization in your database. It analyzes your grantees' data and intelligently generates relevant searchable attributes, adding them to each organization's profile.
The beauty of this feature lies in its simplicity. In SmartSimple Cloud, these organization attributes are stored as user-friendly, and searchable, hashtags. This simple yet dynamic cataloging system drastically enhances the power of your GMS' customer relationship management (CRM) capabilities, enabling more intuitive navigation and search within your database.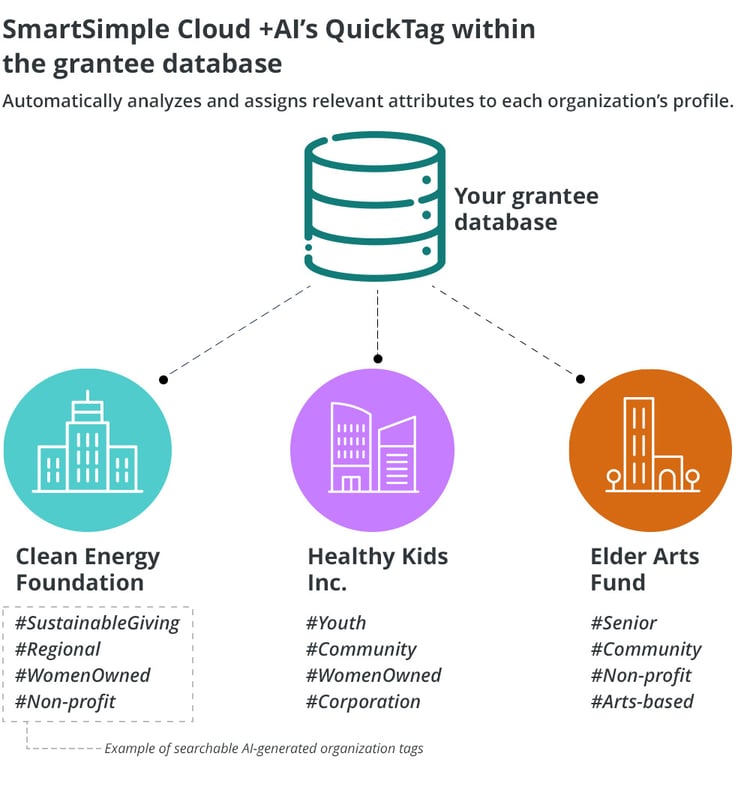 Challenges encountered by grantmakers
Let's explore the challenges grantmakers face without QuickTag:
Navigational difficulty: The current GMS often lacks efficient tagging, making navigation through the database a time-consuming endeavor.


Manual classification: Adding organization-specific classifications and hashtags one by one to each profile is a labor-intensive task.


Identifying similar organizations: Without an intuitive classification system, identifying similar organizations within the database becomes a tedious, manual process.
Benefits of SmartSimple Cloud +AI's QuickTag
By addressing these challenges, SmartSimple Cloud +AI's QuickTag delivers a range of benefits:
Automated tagging: This feature uses AI to automatically attribute tags to each organization in your database, significantly improving your GMS' CRM capabilities.


Searchable tags: The tool generates relevant, searchable tags for each organization's profile, enhancing your ability to intuitively search for specific organizations.


Efficient organization comparison: With automatic tagging, finding similar organizations within your database becomes significantly easier.
Consider the following example to illustrate these advantages. Suppose you are looking for organizations focusing on 'marine conservation'. Instead of manually trawling through each organization's profile, SmartSimple Cloud +AI's QuickTag automatically tags these organizations under the #MarineConservation hashtag. A simple search for this hashtag instantly displays all relevant organizations, saving you considerable time and effort.
QuickTag is a significant stride in the advancement of grant data management. This feature, by providing an efficient, intuitive classification system, empowers you to optimize your database management and make more strategic, informed decisions. It signifies SmartSimple's ongoing commitment to streamline your grantmaking operations, making them more impactful and user friendly.
To learn more about SmartSimple Cloud +AI's QuickTag, contact SmartSimple at platformsolutions@smartsimple.com or subscribe to SmartSimple Cloud +AI through the SmartSimple Cloud Marketplace.
If you missed the SmartSimple Cloud +AI launch, visit the launch post to learn more about this transformational product.