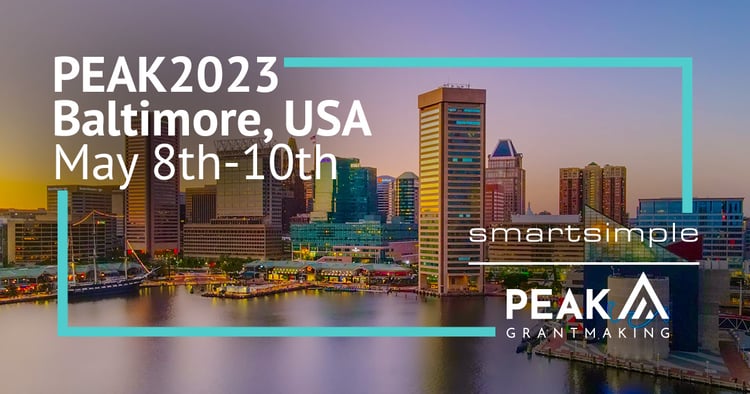 SmartSimple returned as an exhibitor at last year's PEAK Grantmaking conference, one of the largest gatherings in the grants management industry. As an exhibitor, we looked forward to connecting with existing clients, networking with potential prospects, and gaining valuable insight into the latest industry trends. Whether you attended the event in person or virtually, we hoped you visited our booth, number 209, to learn more about our solutions.

Advanced Artificial Intelligence (AI) will transform the future of work. With the introduction of SmartSimple Cloud +AI, our new product that integrates AI services into SmartSimple Cloud, where organizations can employ AI-enriched workflows. This will help meet the specific needs of each work process and provide tailored experiences for all stakeholders.
It's the first fully integrated AI product across the markets we serve, deeply integrating text completion AI functionality, recently popularized by OpenAI's ChatGPT, into critical operational workflows. The product harnesses the powerful architecture of SmartSimple Cloud and enables organizations to securely enrich their operational data with AI in the context of their work.
Read more about SmartSimple Cloud +AI and SmartSimple Cloud +AI Supported Application Process.
SmartSimple Grants Management Software
Imagine a grant management software that empowers you to oversee your community, your giving, and your impact, using processes that work for you. That's SmartSimple Cloud for Grants Management. With personalization and automation built into our technology, we can transform your work for greater impact. We empower grantmakers with a centralized suite of customizable modules that work for you. Our grant management software will help you to manage grants, programs, contracts and payments all in a single centralized system, track progress towards your goals, deliver targeted and automated communications and report outcomes and impact over time. For more information, see our grants management page.
SmartSimple Team
Eric Lauer, Co-Founder & CEO of SmartSimple attended PEAK this year, along with Greg Stanley, Director of Platform Solutions, Todd Lapin, Director of Strategic Accounts, and Gary Modlin, Director of Business Development. These experts were on-hand to share their knowledge and insights and answer questions about SmartSimple's platform solutions. To get in touch, please contact: