We're extremely excited to announce that we'll be exhibiting at the 2022 Association of Charitable Foundations (ACF) conference for the very first time. SmartSimple will be attending as one of the conference's primary sponsors.
On the heels of our popular 2022 Unite EMEA Conference last month, being a part of the ACF conference gives us a unique opportunity to connect with the wider European philanthropic community. Over the last few years, EMEA has been SmartSimple's fastest-growing region.
ACF 2022 Conference - November 15th

Taking place November 15th in London, England, the 2022 ACF conference is considered one of the UK's biggest trust and foundation events of the year, attracting attendees from the UK and all over Europe. Collectively, the ACF has over 400 members, accounting for over £2.5bn in giving annually.
This year's conference is Courage: Leadership in the Next Decade. Amidst the many global challenges we've seen in recent years, this year's conference is an opportunity to engage in a dialogue around how foundations can take on a leadership role in addressing these challenges.
As one of the conference's primary sponsors, we're looking forward to participating in thought provoking discussions about what foundations can do to lead with courage in the wake of global challenges from the pandemic, climate change and inequality.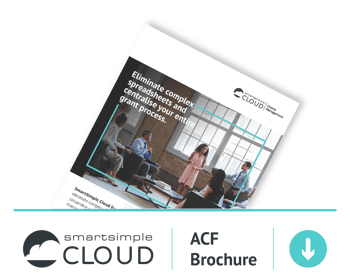 Visit our Booth to see SmartSimple Cloud for Grants Management in Action

Nell Dodge and Brendan Bradley from our EMEA team  are very excited to present our SmartSimple Grants Management solution in person. Stop by and say hi!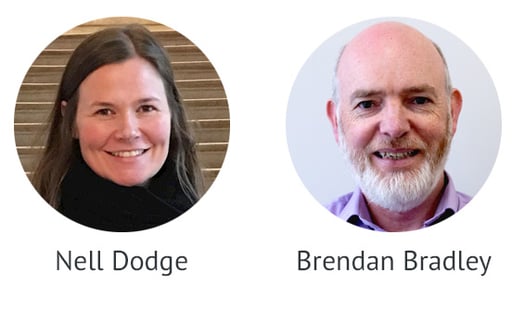 Our team will be showcasing SmartSimple for Grants Management, our award-winning solution that offers unparalleled personalisation and automation to help grant makers optimize their critical granting processes. This is a sold-out event, we can't wait to meet you!
About SmartSimple

Founded in 2002, SmartSimple Software is a pioneer in cloud-based grant management software. Globally, 500 clients trust SmartSimple Cloud, including prominent foundations, Fortune 500 companies, and government agencies.
Our SmartSimple Cloud for Grants Management solution empowers grantmakers with a centralized suite of modules that can be tailored to your unique needs.
With SmartSimple Cloud for Grants Management, you can manage the entire grant lifecycle from under one roof. From grant proposals and submissions to approvals and reporting, SmartSimple Cloud for Grants Management drives efficiency, enabling you to be more impactful.
Learn more about SmartSimple Cloud for Grants Management.