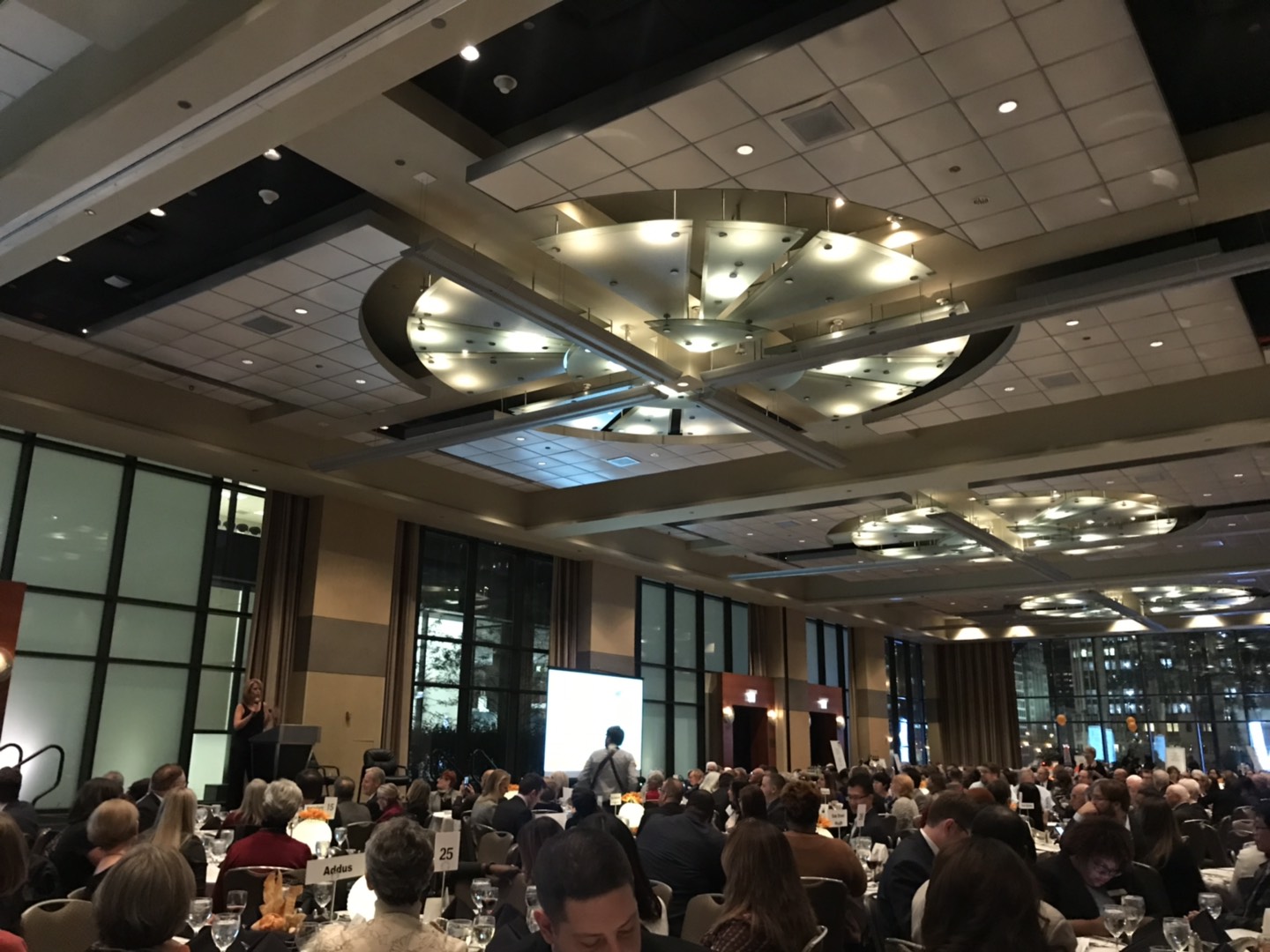 As we age, often our needs and dependency on others increase and we're met with the heaviest consequences of being forgotten. Aging can sometimes become synonymous with fading out of society's awareness which results in loneliness and isolation. Research from AARP shows that feeling lonely is as dangerous as smoking 15 cigarettes a day. In response to this, Area Agencies on Aging across the US like AgeOptions of Illinois' Cook County, facilitates local programs that not only raise awareness of aging populations but also protect their dignity and independence. These vital programs provide the much-needed services and support aging populations need to remain cared for, and ultimately not feel alone.
On October 18 in Chicago, SmartSimple sponsored and attended AgeOption's 14th annual fundraiser, Celebrating Leadership, to support their incredible work and the dedicated team of people behind the scenes that make it happen. The theme of this year's event was "Celebrating Leadership," and it was a special event in honor of Jonathan Lavin who is retiring later this month after 40 years of serving as President and CEO. The fundraiser also marked a celebration of a new leader. Diane Slezak, AgeOptions' incumbent CEO and long-standing COO, will succeed Jonathan as the agency's new President.
What followed was an inspiring talk met with applauds and teary eyes from the master of ceremony, NBC5's Lisa Parker. She shared her deeply personal and moving story about the passing of her parents and how they never had the chance to take advantage of services like AgeOptions provides. Her story fuels her commitment to the cause of helping the aging community get the support and dignity they deserve.
Throughout the reception were presentations on the truly impactful work that AgeOptions does. Area Agencies on Aging, like AgeOptions, receive a substantial portion of their funding from the Older Americans Act (OAA), federally enacted in 1965, but still, they raise additional funding through donations and pledge cards while raising awareness for the 40+ programs they offer to keep people independent as they age, including:
iFAST: A collaboration among social service organizations, law enforcement, financial institutions, legal services, and state agencies combating elder financial exploitation through case consultation, community education, provider training, and rapid response.
Caring Together, Living Better: A partnership among social service providers to support family caregivers with an emphasis on reaching African-American and Latino caregivers in the south and western suburbs of Chicago. These volunteer-based services include meal delivery, in-home, and onsite respite care, transportation, support groups, and educational workshops.
Targeting to Culturally and Linguistically Isolated Adults: Identifies and connects older adults who speak little to no English with existing services and programs through translation, referrals, and assistance in applying for services and benefits.
Long-Term Care Ombudsman: Protects rights and promotes quality of life for people who live in nursing homes and other care facilities. This program is also expanding to serve those who are in managed care, and/or receive in-home services and supports.
Each of AgeOptions' programs adheres to the five core services under the OAA which include:
Elder Rights: abuse prevention and long-term care ombudsman programs

Caregivers

Nutrition

Health & Wellness

Supportive Services: information and referral in-home services, homemaker & chore services, transportation, case management, home modification, and legal services
Here's a look into some of AgeOptions' impact from 2017: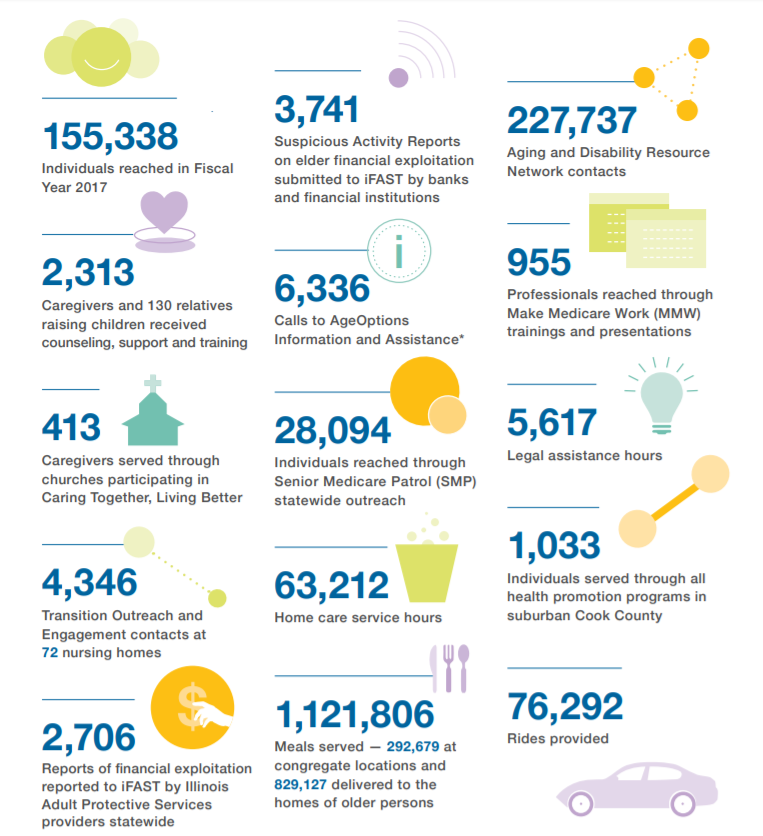 Both Jonathan Lavin and Diane Slezak took turns at the podium and had salient points to share. Slezik emphasized that aging people need services, and while these needs may appear to be more simple, they are incredibly critical. They spoke about the work to ensure that aging populations get the assistance they deserve and continually ensure entitlements like Medicare, Medicaid, and social security, are protected. Lavin continued that with new ways to help the elderly, the human element of service is always a priority: "we welcome technology, but we will always look into the eyes of those we serve."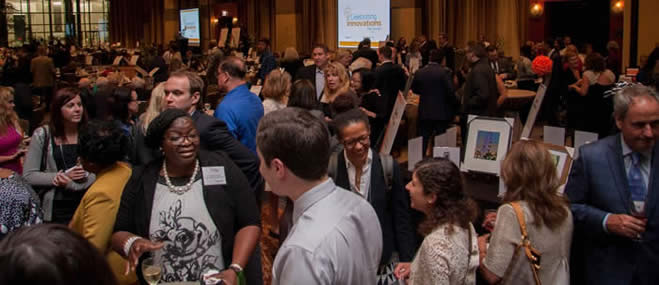 This event was a beautiful celebration that we at SmartSimple thoroughly support and in some relate to with personal stories of our own aging family and friends. We're also honored to be partnering with AgeOptions on a modernized grants management system that will help them achieve their mission faster and more efficiently. SmartSimple's end-to-end grants management solutions will be instrumental in funding the organizations that provide services to the aging populations in Cook County. This system will also be assisting AgeOptions with increased reporting consistency to state and federal agencies.
Everyone knows someone who will age. AgeOptions is one part of all the agencies across the states who help our aging loved ones live with dignity. We can always do more, so please donate to the fantastic work that AgeOptions provides today.