The November 2019 SmartSimple upgrade contains several exciting enhancements. We have made a number of platform changes to improve the user experience of your system. A full upgrade summary of all features and enhancements can be found on our Wiki, or by attending our Upgrade webinars.
Moving to a 3-cycle upgrade schedule in 2020
Beginning in 2020, We're moving to a 4-month release cycle. This means there will be 3 upgrades a year instead of 4. Why? Because this will give us more time to build bigger and better features for you to take full advantage of your SmartSimple system.


Watch the summary of our November Upgrade Highlights in the video below
---
Key Enhancements


Configuration Mode for Portals
Since its release, Configuration Mode has been one of the most popular features on the platform amongst system admins. Essentially, it enabled you to make quick, on-page edits to things like fields from within a record without having to navigate to the settings page.
With this new beta-mode configuration feature, we've extended that quick edit functionality to user portals in text edit templates. That means you don't have to navigate to the portal configuration settings to make changes and can do so while viewing any portal.


Tab Bar - Full Feature Release
For those of you who enjoyed using the Tab Bar while in beta mode, we're happy to announce that we're going live with a full global release this upgrade. Now you can multitask easily by opening multiple screens at the same time and navigate between them.
You can use as many tabs as you need, so you can literally visualize and jump between all facets of the grant application process at the same time. With tabs showing information on application submissions, payments, reviews, and organization/user information at the same time, you can work more efficiently and save hours of administrative time. And similar to how Excel works, we've also added the ability for you to reorder your tabs through drag and drop.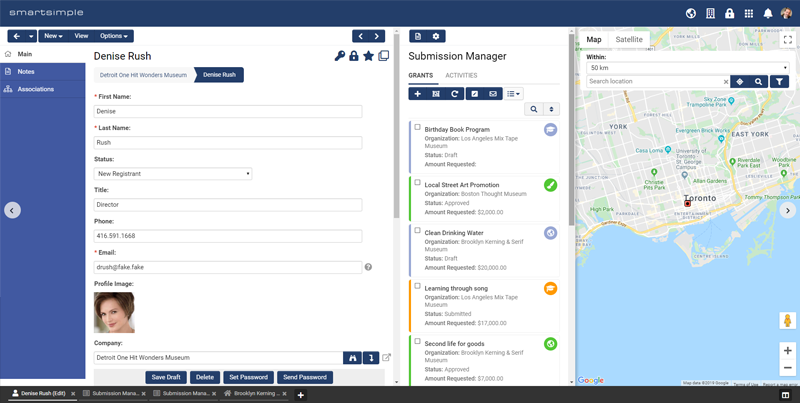 Improved Search Function in Portal Sections
Searching doesn't need to feel like throwing darts in the dark hoping you entered the exact keyword to find what you need. This new feature now enables your external users to quickly search values and sections instead of manually typing everything out. System admins will have the ability to determine the fields that searches can be done on. For example, if your applicants want to find a specific application they're working on, they can search by date, application number, or any other field you choose to make searchable.

Advance Geocoding / Mapping Support
We've added a new enhancement that will enable you to add more data points to your maps. Now you're able to control the mapping radius around a specific user or organization. This is useful if you want to expand or shrink the coverage area that you want to show on your impact map.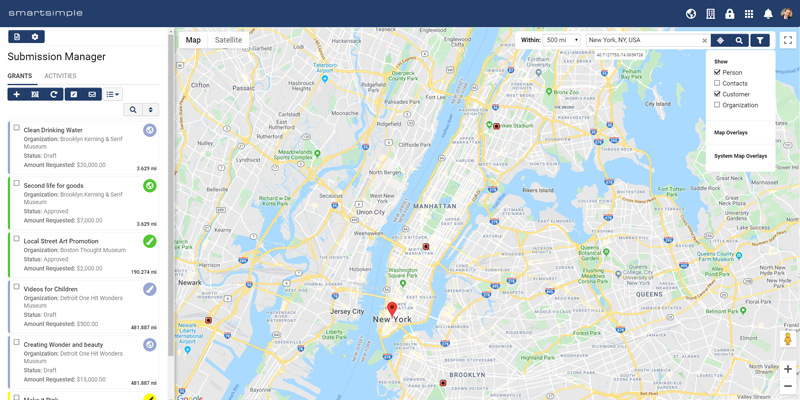 Detailed Privacy Acceptance Logs
We have introduced a new searchable list that makes it easier for you to audit and download user privacy acceptance agreements. When people accept a policy, you can now see a view log of when people and users acceptance. Gone are the days where you have to search for individual names of users and comb through forms to make sure everyone has accepted their policies.
Now, you have access to reports and signed policies all on one searchable screen with time-stamped PDF documents that detail the who, when, and what version of your policy was accepted. You can also export this information via reports. This new feature is especially helpful for organizations that need to maintain GDPR-compliance and need to pull user acceptance logs.


ORCID Integration
Dear researchers, we hope this makes your lives easier. With this beta enhancement released as a sneak peak, researchers applying for funding can now pull their profile directly from their ORCID account to their SmartSimple profile information.
There's no need for reentry of profile information into SmartSimple. Internal staff can also search for ORCID information in their integrated SmartSimple profiles so there's no need to continue jumping back and forth from system to system. And finally, we've also added the ability to push grant history information processed in SmartSimple back into ORCID to update the researcher's ORCID profile.


---
To view the complete list of enhancements from the November 2019 Upgrade, visit the SmartSimple Wiki.