Each quarter, we release a series of upgrades we've developed over the last three months, many of which are created out of your needs. In this special newsletter, we highlight some of the features that we think will have the greatest impact on your user experience. A full upgrade summary of all features and enhancements can be found on our Wiki, or by attending our Upgrade webinars.
For this round of upgrades, we focused on enhancing configuration tools to give users additional flexibility to personalize and make their own system changes.
Watch the video below to review the highlights from the May 2019 upgrade.
---
Ending support for the Classic interface
Say goodbye to the past, and hello to the future. Officially taking place with the November 2019 upgrade, we are discontinuing support for the Classic interface. Most clients will not be affected by this move since the majority of users are already using the newer, more modern, Arcadia X interface.
Note: You can find out if you're Classic or Arcadia by going to the Roles and Security section, clicking on "User Roles" and can see what portal name is configured to each role.
If you are using Classic at the moment, to save you the stress of switching over, we've added a setting that will move your Classic portal List Views and records seamlessly into Arcadia X. In the Global Settings section, you can "Disable Classic Mode". You can use this setting on your backup to see and test how your system will look after the November 2019 upgrade.
For clients using the Classic interface, we will be having a Q&A Webinar on Monday, May 13, 2019 at 11:00 AM EDT to address all your questions about switching to Arcadia X. As always, please feel free to contact us if you have any other concerns about this transition. Worried you might not remember everything in the webinar? No stress. We'll be preparing and providing additional info materials about what to expect and how you will be affected by the transition.
---
New personal List View options
System admins will love this new feature! You can view data the way you want without having to ask them to configure it for you. We have made it easier for you to personalize the way List Views look and behave. While you can still filter and search with ease, by clicking on the "List View Options" button, you can choose which columns to show and hide.
The "List View Options" button also enables your system administrator to create one list view for multiple people, and each user can personalize how that list view will look for them. This upgrade feature helps reduce system administrator effort and declutters your system with less list view versions.
---
New UTA system diagrams
Sometimes seeing information mapped out helps create a better understanding of what you're looking at. We've created new visual diagrams for administrators to easily view and configure the status flow of their Universal Tracking Application (UTA). This feature makes it easy to trace through your status and approval process flows in a centralized way.
---
Improved Annotations
We're excited to introduce a new and accessible icon for "Annotation Mode" straight from your view mode. This new annotations feature gives you, internal and external users the ability to add comments and notes at the field level to keep everyone up to date. For example, you can ask an applicant to revise a value they entered and explain how the value needs to change. See below.
---
High Visibility Notes
Need to make your point loud and clear? With this enhanced feature, you can create high visibility notes that show up as a notification to all users. This option makes it easier to post warnings and other important information on contacts, organizations, and applications.
---
Improved Stripe integration
Payments shouldn't be complicated, that's why we've made our Stripe integration easier to use. Not only is it easier to turn on but now there's no need to create a payment template. You can now map the Stripe fields directly on the page. With a cleaner look and feel, you can attach a Stripe page directly to a submit and payment button.
---
Enhanced Company Signup page with multiple contacts
Signing up should be as simple as possible. With this new feature, we've made it easier for organizations to sign up multiple users and types of users at once instead of spending more time than needed entering individual accounts.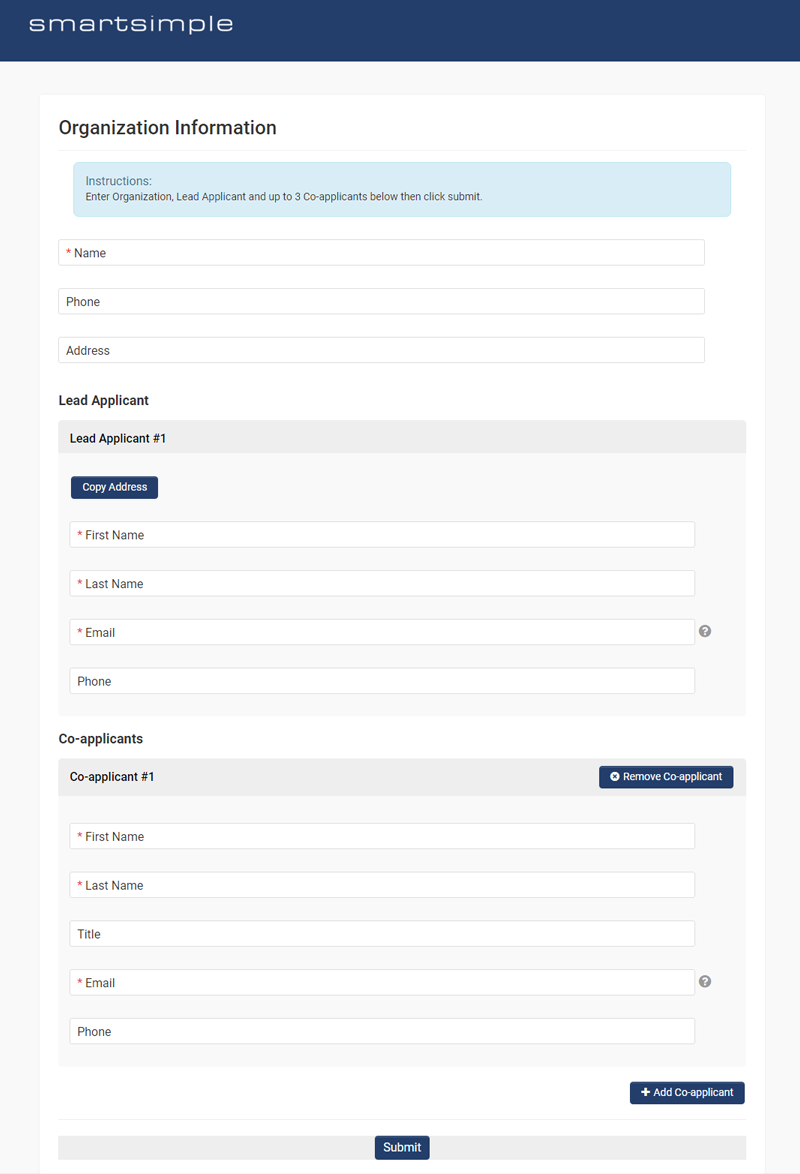 ---
To view the complete list of enhancements from the May 2019 Upgrade, visit the SmartSimple Wiki.