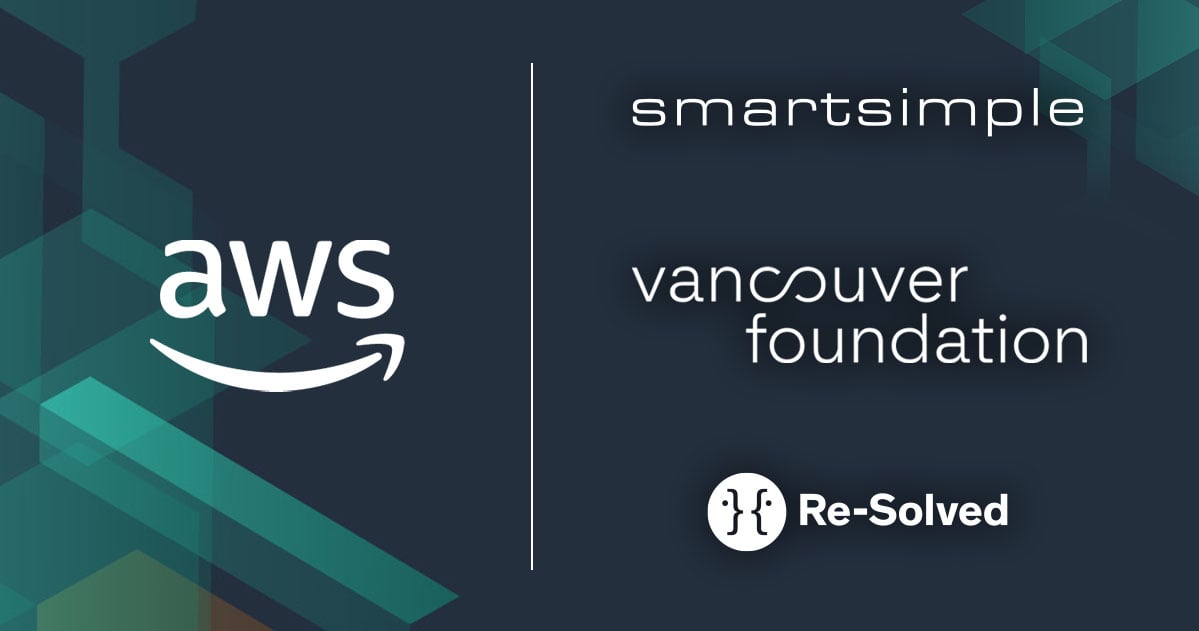 Bigger Impact Together: SmartSimple Cloud for Grants Management, Vancouver Foundation & Amazon Web Services
We are proud to be featured on AWS.com.
Amazon Web Services, the world's largest cloud service provider, recently profiled Vancouver Foundation in a featured story highlighting their efforts during the pandemic.

You can read AWS' Vancouver Foundation/SmartSimple Cloud case study on AWS.com For additional information on Vancouver Foundation visit our Client Stories resources.
Read The Story: Vancouver Foundation, A Passion Driven Foundation & Their Continuous Community Focus
The Vancouver Foundation has an 80-year legacy of improving the lives of the people and communities in the province of British Columbia, Canada. For the Vancouver Foundation, like many others, change has accelerated. Be it social, economic or technological, managing change has made it increasingly difficult to deliver the same impact to communities.

To meet the challenges posed by accelerated change, Vancouver Foundation implemented an ambitious plan to modernize their processes, and in 2016 found a perfect partner in SmartSimple.

The results of the partnership have been substantial.

Vancouver Foundation provides $60 million in grant funding, nearly $20 million of that is processed through SmartSimple Cloud alone. And that number continues to rise.

When Vancouver Foundation first selected SmartSimple as its technology partner five years ago, they managed just over 1,600 funds. Today, that number has ballooned to over 2,100 funds.
Scrapping paper, handwritten notes, and spreadsheets for the Cloud
When Vancouver Foundation first signed on with SmartSimple, it was still using paper-based processes, handwritten notes and spreadsheets to track funding. The Foundation managed by incorporating a handful of different technologies cobbled together to form a makeshift grants management system. This led to errors, time wasted and a great deal of inefficency.

Adding to the complexity was the fact that Vancouver Foundation had a set of guidelines it had to follow to accommodate conditions like donor intent, fundholder preferences, and dollar alignment by grantee/project.

SmartSimple helped Vancouver Foundation move away from the age of the spreadsheet and usher in a Cloud-first solution in SmartSimple Cloud for Grants Management.
Modernizing the grantmaking process with SmartSimple Cloud
The move to SmartSimple Cloud for Grants Management solved a couple of key challenges for Vancouver Foundation.

For starters, they were now working with a complete end-to-end grants management solution with room to grow. That meant they only needed one core technology in their toolbox rather than multiple tools to achieve better results.

Working with SmartSimple implementation partner, reSolved, Vancouver Foundation was able to leverage SmartSimple Cloud's trademark flexibility to develop system-assisted fund matching directly within their solution.

By the end of the modernizing project Vancouver Foundation had centralized their data, streamlined their processes and drove greater collaboration amongst stakeholders.

With critical processes now automated, Vancouver Foundation was perfectly positioned to deliver amidst the greatest global health crisis of our generation.
Vancouver Foundation's Heroic Effort During the Pandemic
The province of British Columbia, as with the rest of the world, was completely unprepared for the global lockdowns that the pandemic brought on. With people in desperate need, Vancouver Foundation delivered with speed and efficiency, creating a Community Response Fund administered through SmartSimple Cloud.

Within a matter of weeks, Vancouver Foundation had injected millions of dollars into local communities, supporting people at a critical juncture with many locked out of work.
SmartSimple and Amazon Web Services (AWS)
SmartSimple is an AWS ISV Partner. SmartSimple Cloud is deployed using various AWS services.

Earlier this year, SmartSimple Software was the proud recipient of the Social Impact Partner of the Year award for Canada from Amazon Web Services (AWS). The award was announced at the 2021 AWS Partner Summit. It recognizes SmartSimple Software's role as a technology provider in helping to empower funding organizations to create greater efficiencies within their operational processes to positively impact their communities. One of the shining examples included Vancouver Foundation's impactful work in their community during the pandemic. Read more about the award and story here.
SmartSimple's Implementation Partner, reSolved
reSolved and SmartSimple have a 10+ year strategic relationship. Services provided by reSolved include Business Intelligence, Process Redesign & Optimization, Implementation & Software Development, Outcomes/Impact Measurement, Change Management, Support, and Training & Digital Adoptions. reSolved also provides implementation development for clients with requirements that extend beyond SmartSimple Cloud baseline functionality.
Have a question about SmartSimple Cloud solutions?
If you'd like to learn more about SmartSimple Cloud for Grants Management, contact us at any time to set up a discovery call.