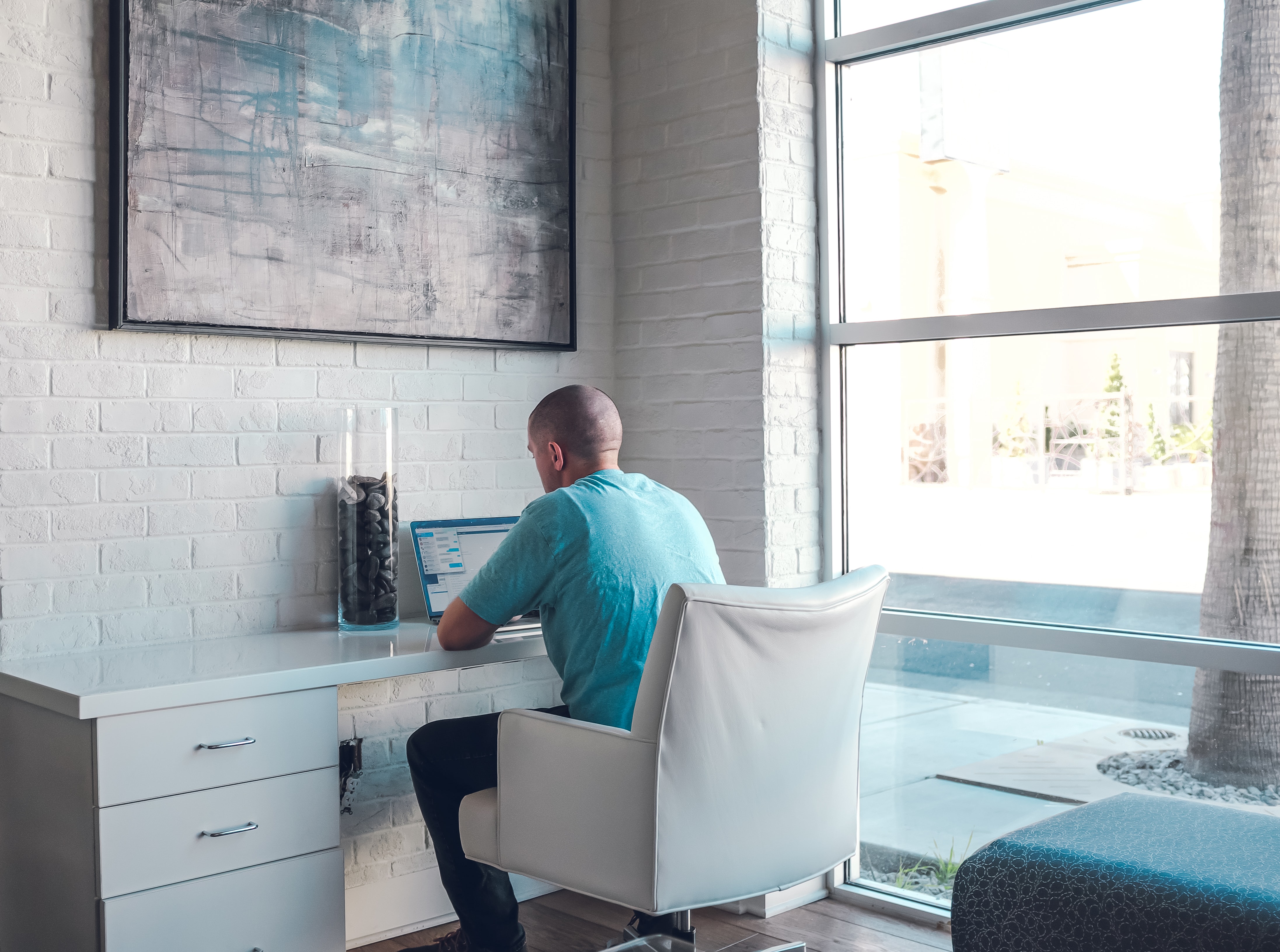 When reflecting on the events of 2020, the word that leaps to many of our minds is "unprecedented." From the crippling COVID-19 pandemic to the calls for justice and equity heard across the United States, companies have had to absorb a number of unprecedented shocks to the way they do business, and the way they carry out their mandate of corporate citizenship. Many organizations have shifted their missions to respond to the ongoing crises – for example, by directing funds toward addressing employee hardship, improving digital education, or advancing advocacy work.

Amid all this turbulence, one thing certainly hasn't changed: the need for clear, evidence-based reporting on your corporate social responsibility (CSR) efforts. You already know that your company – like all companies – is facing heightened scrutiny by an increasingly well-informed public. Social-impact consultants suggest that the decisions companies make during this difficult time "will define their legacy tomorrow," and that a new era of "corporate social justice" may overturn the old models of CSR. The stakes are higher than ever. The world is watching.

As we look ahead to 2021, our new word seems to be "unpredictable." Corporations continue to grapple with enormous uncertainty: How long will the pandemic last? Will our priorities continue to be upended, or will we be able to drive meaningful, lasting change? How can we map out a CSR strategy that's flexible enough to meet whatever challenges lie ahead?


An agile approach to a changing CSR environment

"Agile" is a concept born out of the software world. It describes an incremental, or iterative, development process, in which work is delivered in small chunks rather than in one big reveal. This allows for continuous monitoring and feedback, and lets developers alter course when and if needed. According to the author of The Age of Agile, Steve Denning, "Agile enables organizations to master continuous change. It permits firms to flourish in a world that is increasingly volatile, uncertain, complex and ambiguous." Sound like the world you're experiencing right now?

Agile has not remained confined to IT, of course; industries from manufacturing to construction have benefited from implementing the methodology. Agile adopters often increase their productivity, deepen employee engagement, and improve their customer satisfaction (not to mention their ROI).

Whichever industry you find yourself in, an agile approach to your CSR strategy can help your company proactively respond to new developments, by tracking where and in what ways you are making an impact.


Harnessing the power of technology to showcase your impact

Thankfully, there's no need for you to become an expert on the finer points of Agile before you can use its principles to guide your company's CSR strategy forward. Technology can be a tremendously valuable partner in helping you track all your corporate and workplace contributions, and – crucially – in sharing the big-picture story of your impact with stakeholders. By continuously monitoring your company's progress in your chosen areas of activity, you'll be equipped with all the information you need to determine whether you should pivot, fine-tune, or stay the course with your CSR strategy.

SmartSimple Cloud for Corporate Social Responsibility, the world's first end-to-end CSR solution from SmartSimple and America's Charities, offers unique advantages over other corporate and employee giving reporting solutions—and certainly over spreadsheets. Here's how SmartSimple Cloud for Corporate Social Responsibility's robust reporting features let you track, evaluate, and communicate your social impact in real time:

It puts a real number on your progress. With SmartSimple Cloud, you can track every dollar you've granted, raised, or matched. You can even quantify in-kind donations and volunteer hours. Using standard wage equivalencies or your own criteria, all of these can be aggregated and converted into a measurable dollar figure, leaving you with a single metric that you can share with your stakeholders. Don't use dollars? SmartSimple Cloud supports over 67 currencies.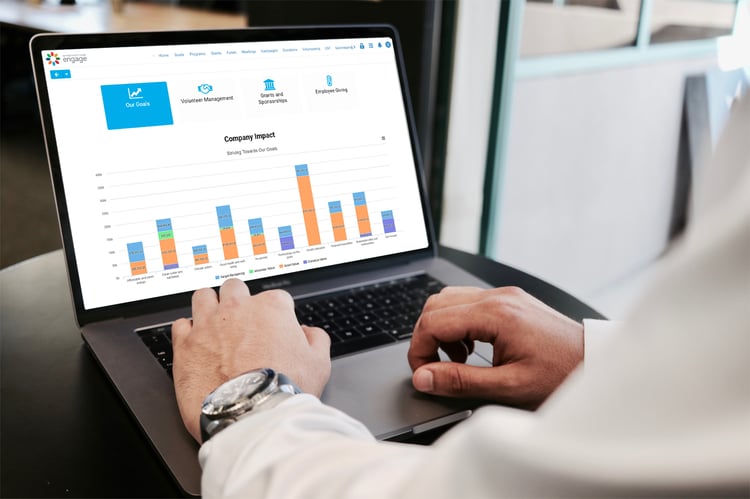 SmartSimple CLOUD for Corporate Social Responsibility's configurable dashboards give you convenient, real-time access to your combined, company-wide contributions.

It lets you determine your goal framework. All SmartSimple Cloud solutions are fully configurable to your requirements, which means you can easily tailor it to fit your company's goals. Whether you want to benchmark your progress using the United Nations Sustainable Development Goals (SDGs) or another framework of your choice, you're in the driver's seat. Whether you have one goal or many, every activity or contribution can be aggregated and counted toward a specific target—for example, UN SDG Goal 2: Zero Hunger. Have another company-wide goal you want to track incremental progress towards? Our Goal Tracker module can handle that.

RELATED: Everyone is starting to adopt the UN SDG framework, but how can you effectively track your efforts against it?

It automates data collection. You may be used to tracking down data from colleagues and associates around the country or the globe for reporting purposes. Since SmartSimple Cloud is cloud-based, everyone can securely enter their data directly into the system, even when they're working from home. And you can get your reports directly from the system: no need to make requests from a gatekeeper. SmartSimple Cloud for Corporate Social Responsibility is also ready to handle any of your multi-language and currency needs for successfully and cohesively rolling out your CSR initiatives globally. With all your company's giving data within SmartSimple Cloud, your team and various business units will be equipped with the information and insights needed to make smarter decisions based on what's working and what may have room for further iteration.

It shows stakeholders what they need to see. With SmartSimple Cloud, you can tailor the information that each contributor sees. They interact with a personalized dashboard that gives them a clear picture of the metrics that matter most to them. Visualizing the data keeps all contributors constantly apprised of the latest developments, and helps align your people with your company's corporate citizenship mission.


"Everyone has their own portal, their own password and they only see what they need to see. This makes the overall interface much more efficient for local approvers."
– Foundation Representative, Global Corporate Foundation


It makes reporting less painful. Forget hunting down and collating data from your company's disparate offices or business units at the eleventh hour. Forget inefficient spreadsheets: our List View functionality gives you the quick overview of your data that you're used to with Excel, but lets you export it into shareable reports as needed (and you're more than welcome to export your data from SmartSimple Cloud into Excel if you love it). SmartSimple Cloud lets you quickly report up and group as many different kinds of records as you like (whether they're community grants, volunteer hours or matching gifts) into a single report with a multitude of data visualization options, shareable by PDF or a unique URL. Internet-enabled reports even let you display the information—constantly updated in real-time—on your company's external website.


It visually maps your impact. Numbers are compelling, but SmartSimple Cloud's Impact Map takes reporting a step further. All your CSR contributions are plotted on an interactive map, showcasing the location-based impact your company is having around the world: a powerful tool for both stakeholder relations and decision making. For example, Denmark's Grundfos, one of the world's largest pump manufacturers, uses SmartSimple Cloud's Impact Map to make a strong visual statement about their global water conservation work.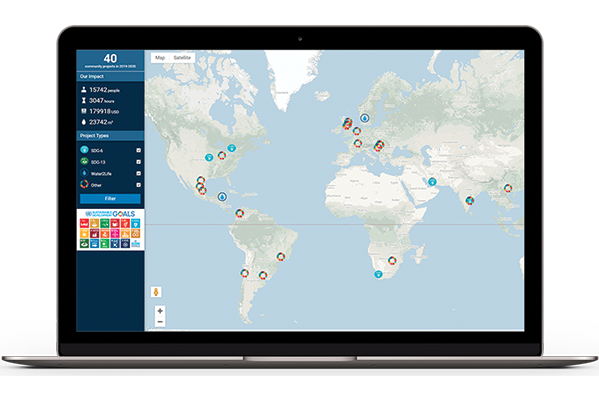 Screenshot of Grunfos' Impact Map
Visitors can filter Impact Maps by campaign, cause, UN SDG, date—anything you choose—and zoom into different regions to find out more information about specific projects and initiatives. You can share the map by URL, or even present it on your company's website and let your customers interact with it themselves. How's that for transparency?

Add up all these features, and you're left with a clear, real-time picture of exactly where your CSR investments are going, where they're having the greatest impact, and where you might choose to turn your attention.

So, if 2021 brings a sudden, sharp turn in the road (or the road simply turns out to be longer than we had hoped), you'll be ready: armed with up-to-date, easy-to-analyze data, and confident in your ability to steer your CSR efforts in the right direction.


Want to see how SmartSimple Cloud can enhance your impact reporting?

More than ever, companies need to be agile enough to respond quickly to change, and effectively communicate the impact their corporate citizenship initiatives are having in their communities and around the globe. Contact us for a personalized demo to see how SmartSimple Cloud for Corporate Social Responsibility and its reporting capabilities can help you take the lead in an uncertain future.