In the course of just a few months, our communities across the globe have been fundamentally changed. Every aspect of how we go about our lives has been affected in some way – from healthcare and retail to food service and essential services. As a result, each sector has had to rapidly adjust to an unprecedented, and invisible, threat to normalcy and our previous status quo. Philanthropy is certainly no exception.

Grantmakers' collective response to COVID-19

Though foundations have by and large been able to adapt their own processes by getting funds dispersed quickly to front-line organizations, the ongoing pandemic has initiated some conversations around the future of grantmaking. What does the future of grantmaking look like in terms of a more collaborative process, empathetic to the diverse needs of communities, and the tools used to facilitate both? How will the role of grantmakers change?


Doubling down on resiliency ahead of the next crisis

As regions begin to reopen and communities across the country coordinate their recovery efforts, most understand that our day-to-day work will look quite differently going forward. Upcoming conversations with board members, partner organizations, and non-profits might center on new strategies and necessary changes in light of lessons learned.

Grantmaking strategies are increasingly taking into account the greater social and political context when planning ahead. Though the future does not come with a whitepaper, much less a manual, the ability to adapt and anticipate shifts in funding has become a top priority as a result of the pandemic.

Culture shifts in philanthropy

Grantmakers have always been encouraged to keep their minds and hands busy, but with the current plan to work from home, this has caused foundations to rethink their approach to culture. In addition to meeting proposal deadlines, keeping up with reporting, and participating in crisis planning, foundations are struggling to find ways to take care of the strain placed on their staff.

Another shift in culture directly relates to diversity, equity, and inclusion. With a greater understanding of bias and barriers, the practices and processes of grantmaking are now being looked at with a fresh perspective. COVID-19 has exposed how, despite living in a digitally connected society, disparities in access to resources and technology is disproportionately higher among marginalized and underserved populations.

Training and tools

Independent of what software you use to manage your grantmaking lifecycle, it has become evident that processes and technology that go hand-in-hand are proving to be key to futureproofing foundation operations. Technology that can be seamlessly integrated with existing systems, and enable rather than hinder collaboration, has become critical.

So what competencies or skills are going to be in greater demand? How will grantmakers increasingly deal with uncertainty? What technologies do grantmakers need to consider for optimizing and streamlining?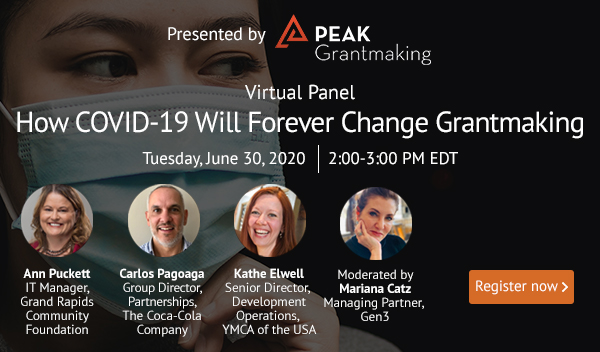 With an eye towards the future, we have invited a panel of your grantmaking peers, each representing a different funding approach, to share their thoughts with us. Hear from Ann Puckett of Grand Rapids Community Foundation, Carlos Pagoaga of The Coca-Cola Company, and Kathe Elwell of YMCA of the USA, as they reflect on the effects of COVID-19.


Register today for this not-to-miss opportunity to gain insight and listen to what other grantmakers are considering as we move into the second half of 2020.