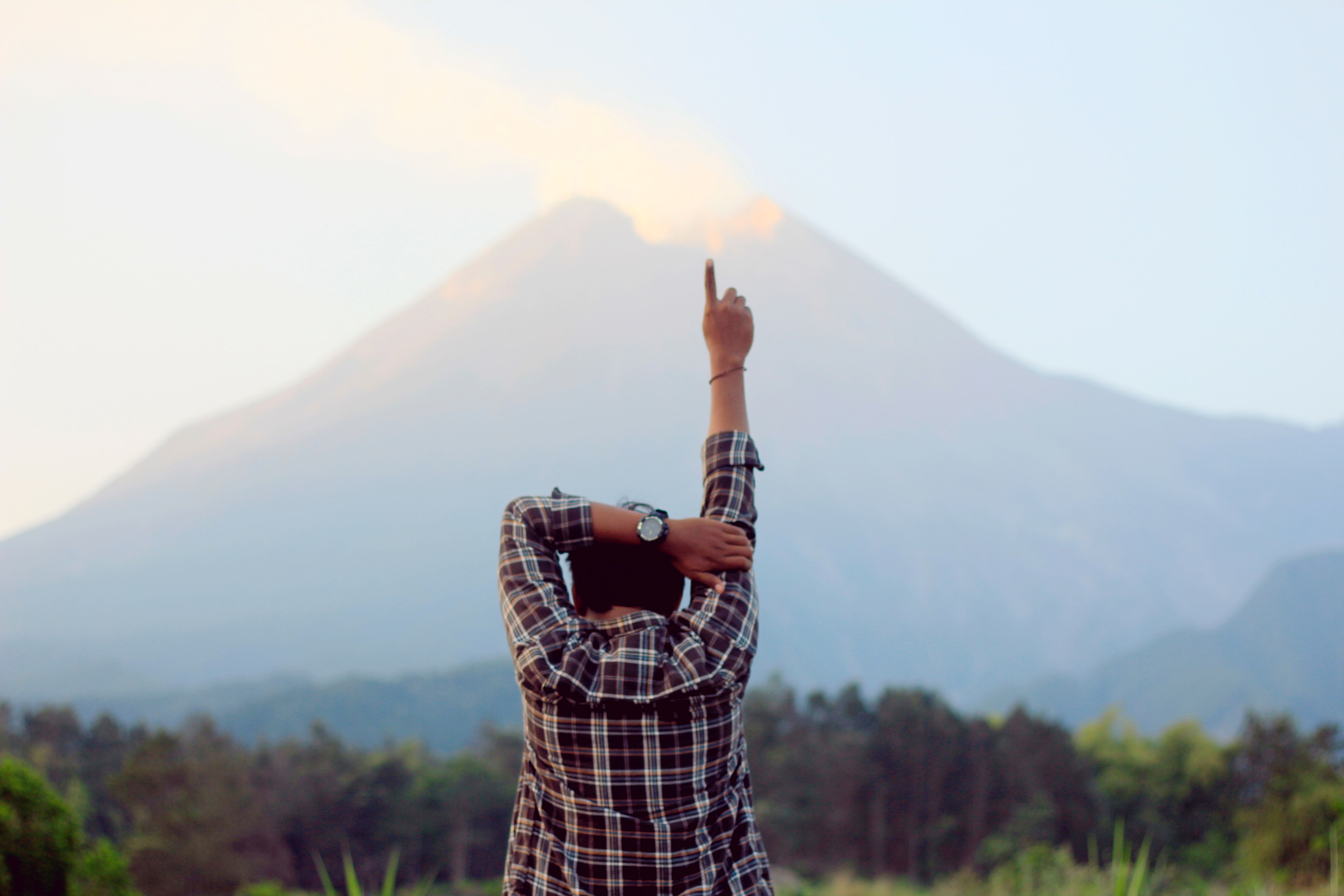 Welcome to our first upgrade of the year! We focused a lot of work and energy on enhancing portals and bolstering security features. This upgrade contains several exciting enhancements in both how you access information and how you can safeguard important data in your system. A full upgrade summary of all features and enhancements can be found on our Wiki, or by attending our Upgrade webinars.
3-cycle upgrade schedule in 2020
As a reminder, this is our first upgrade in our new 4-month release cycle. This means there will be 3 upgrades a year instead of 4. Why? Because this will give us more time to build bigger and better features for you to take full advantage of your SmartSimple system.
Mark your calendars, this upgrade is happening on March 12.
Upgrade Highlights
Predefined Portal Layouts
Whether you've just got your system up and running, or you've had your system for a while, you might be wanting to adjust the look and feel of your user portals, but you just don't have time. Don't worry, in this batch of upgrades, we've created a set of predefined portal layout templates you can pick from so you don't have to spend time building your portals and focusing on the work being accomplished in the portals themselves.

New Portal Shortcut Styles To Choose From
How you design a page can make it much more usable and easier to use. With this upgrade, we've added design options for portal shortcuts along with aesthetic updates designed to enhance user experience. Take a look below.

Portal List Views Search Enhancements
As an administrator, it's important to have access to everything you need at your fingertips. In this upgrade, we're introducing a new settings page for administrators that lists all portal configurations in one single list view. This new page will enable you to search and edit all portal configurations more quickly and easily without having to dig for the information you need, wasting precious admin time.
Notification Splash Screen On Login
Alert! Alert! You now have the ability to set up notifications to automatically pop up on your user's screens when they login. Getting everyone on the same page is so important, especially when it comes to ad hoc updates or critical information they need to know. This new feature can help you ensure your users get the important information they need.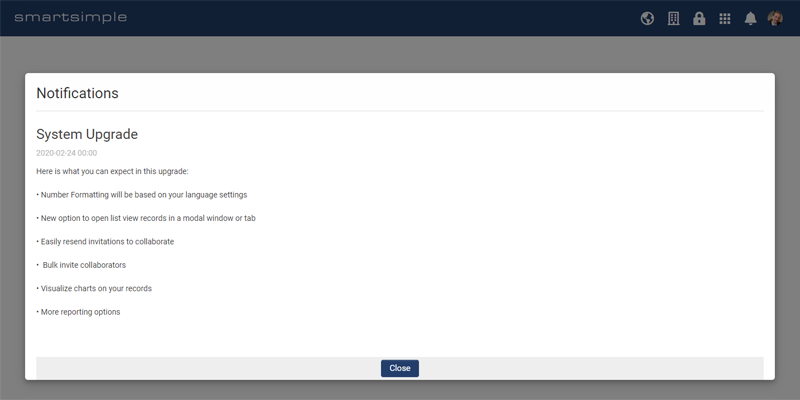 ORCID User Profile Now Includes Charts
Research foundations and applicants, we just made your lives even easier. Building on our ORCID integration (see November 2019 upgrade), this enhancement adds new built-in charts that comprehensively displays the user's ORCID information from your portal. Now research grant applicants can more easily access their information in one system while grant reviewers can access what they need in an accessible chart format.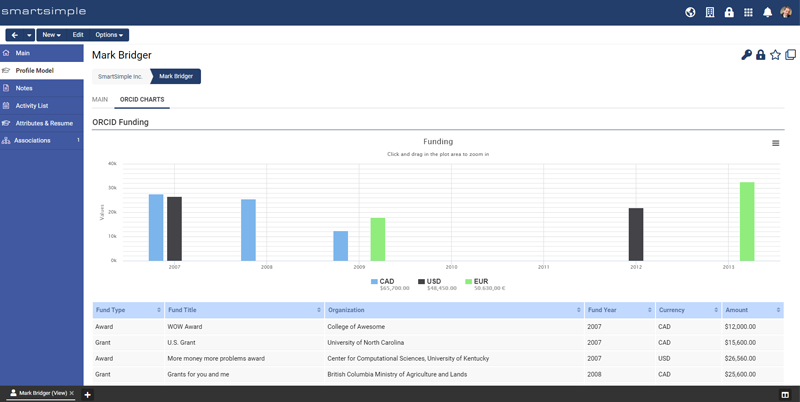 System Feature Summary
Want to know exactly what's going on with your system? This new upgrade adds more transparency in showing you what's happening under the hood in your System Feature Summary by showing you all of the features being used. This is a good space to learn what you know, what you don't know, how to fully take advantage of all the features, and seeing our recommended features you can implement.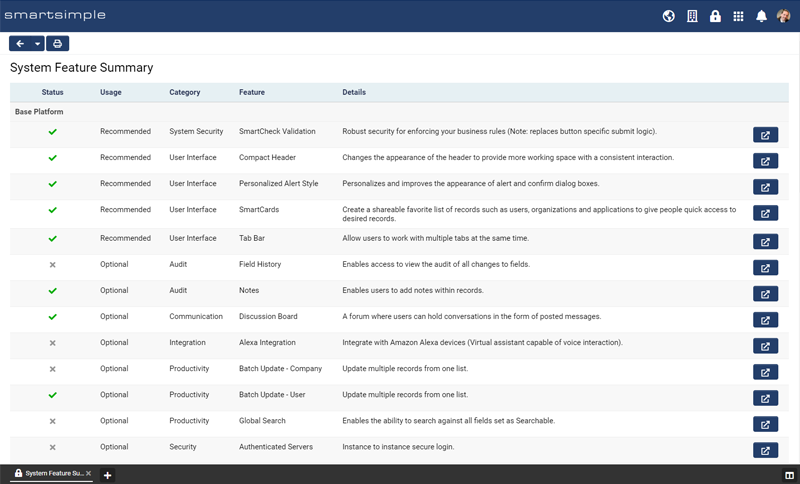 Security Matrix History
Keeping up to date with system security requirements is critical to ensure the safety, privacy, and confidence of your users. Yet even when you're compliant, clearly documenting and creating a thorough audit trail is a time-consuming task. GDPR headaches begone! With SmartSimple's new Security Matrix, you're shown your previous security matrix settings in a comprehensive list so you can easily audit changes for your reporting, leaving no stone left unturned.
Ability To Lock Backup Instance To Non Global Admins
In this upgrade, we've added more depth into system security and role permissions with a new option to restrict access to the backup system for non global administrators, This enhancement ensures that your data is more securely managed and only viewed by the people that need to see it. It also prevents users from accidentally logging into the backup instead of the live version.
Added Emulated User To Login History
With this upgrade, you can audit, track, and report the times you logged in as a user to help them troubleshoot a problem. A new column, "Emulated User Login History", can now be added to your List View. Login activity has always been tracked in your SmartSimple system, but now it's more visible and accessible from your portal. This upgrade is especially important for compliance auditing purposes.
Deprecated: Classic Charts
As we've modernized our system, we've updated our report builder feature to make it more lean and efficient. This means that we'll be discontinuing the Classic Style Report Builder. Don't worry, your existing Classic reports will still work, but you won't have the ability to copy or create new reports with the Classic Report Builder.
Learn More About These Upgrades In Our Webinars
Want to know more about how these upgrades will benefit the work you do? We're offering upgrade overview webinars for system administrators, an upgrade webinar for the research and scholarship verticals and a webinar that take a deeper dive on 3-5 of the most impactful features from this month's upgrade. View the list of webinars and sign up here.

Just need a quick and easy rundown of the new upgrades? Watch the summary of our March Upgrade Highlights in the video below.
-- -- -- -- --
What's your favorite enhancement from this batch of upgrades?
Join the conversation by commenting below.