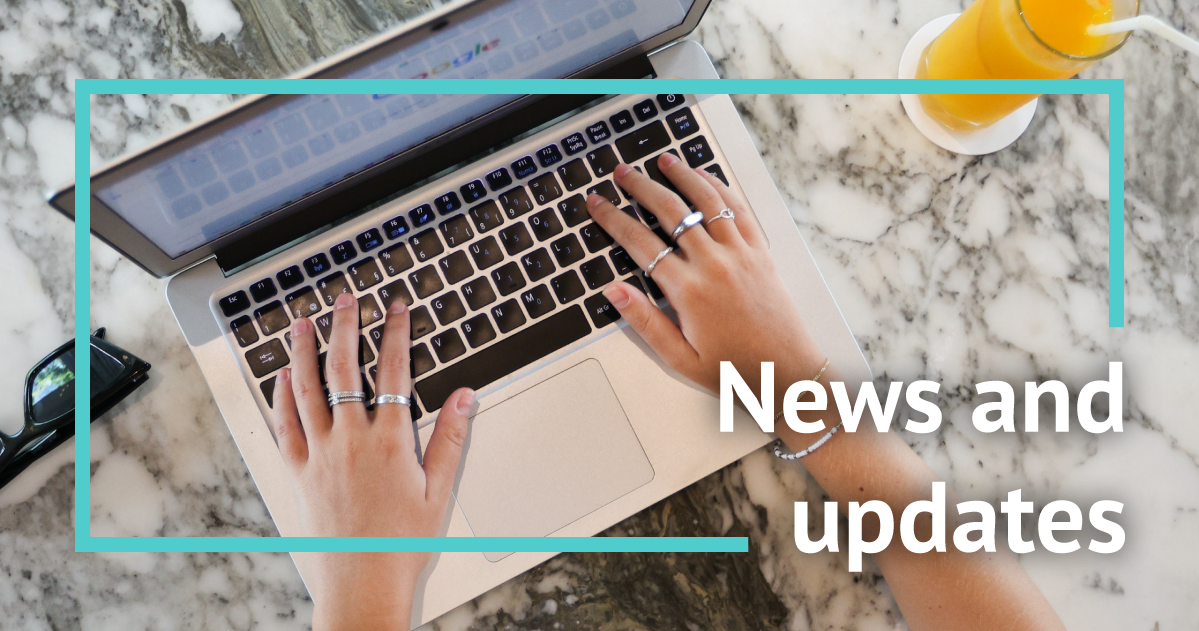 Welcome to the AI-pril edition of SmartSimple's newsletter! This edition celebrates our first-ever AI-pril and focus on AI. We'll provide details on our recent participation in the TAG Member Roundtable on generative AI in philanthropy, as well as give you a sneak peek of our upcoming appearance at the PEAK conference.
We're also excited to extend an invitation to SmartSimple Unite 2023 in Barcelona and highlight our upcoming events. Stay updated by visiting our events page.
Let's dive in!
SmartSimple at TAG Member Roundtable recap: Exploring generative AI in philanthropy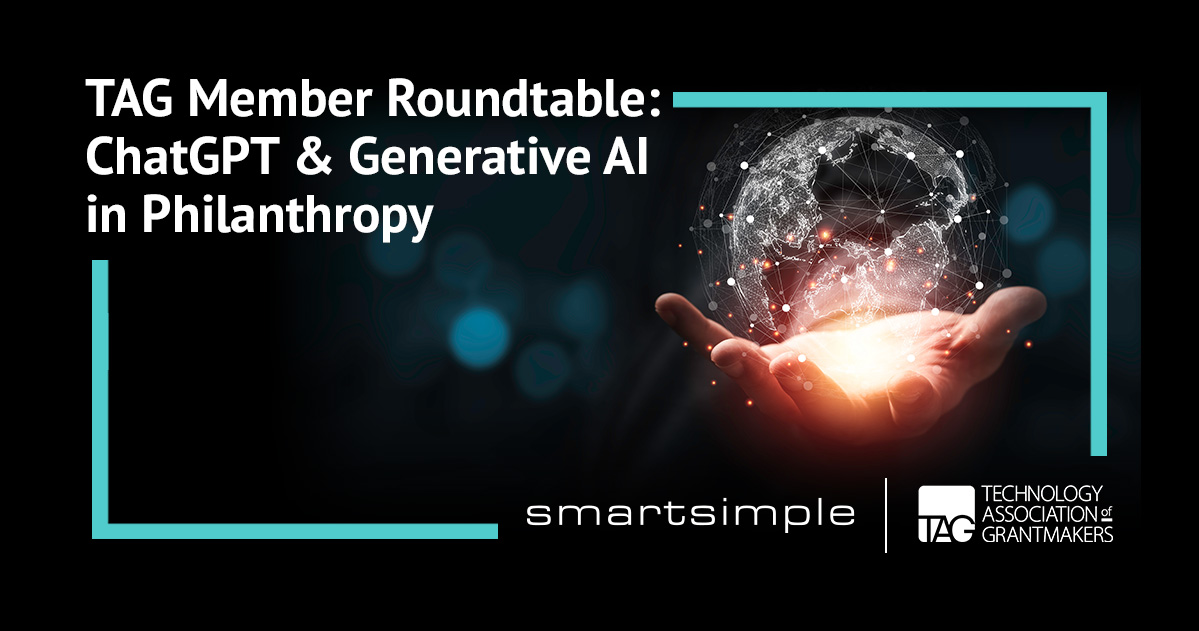 On April 6th, SmartSimple participated in a Technology Associations of Grantmakers (TAG) Member Roundtable to discuss the potential of generative AI in philanthropy. The focus of the roundtable was on cutting through the hype surrounding generative AI technologies, such as ChatGPT, to delve into their promise and pitfalls in streamlining and supporting philanthropy. Participants discussed various applications of generative AI in the field, as well as the potential ethical and practical concerns that may arise.
Our very own Greg Stanley, Director of Platform Solutions, answered questions and demoed our recently launched generative AI product, SmartSimple Cloud +AI. This product aims to revolutionize philanthropy through AI-assisted process management, reporting, and communication.
Key takeaways from the roundtable included a better understanding of the current landscape of generative AI in philanthropy and its potential to improve efficiency and decision-making in grantmaking processes. Participants also gained insights into the challenges that need to be addressed to ensure the ethical and responsible use of AI in the grantmaking space. Interested in learning more about SmartSimple Cloud +AI and what it can do for your organization? Contact platformsolutions@smartsimple.com to learn more.
Part two! SmartSimple Cloud +AI informative webinar recap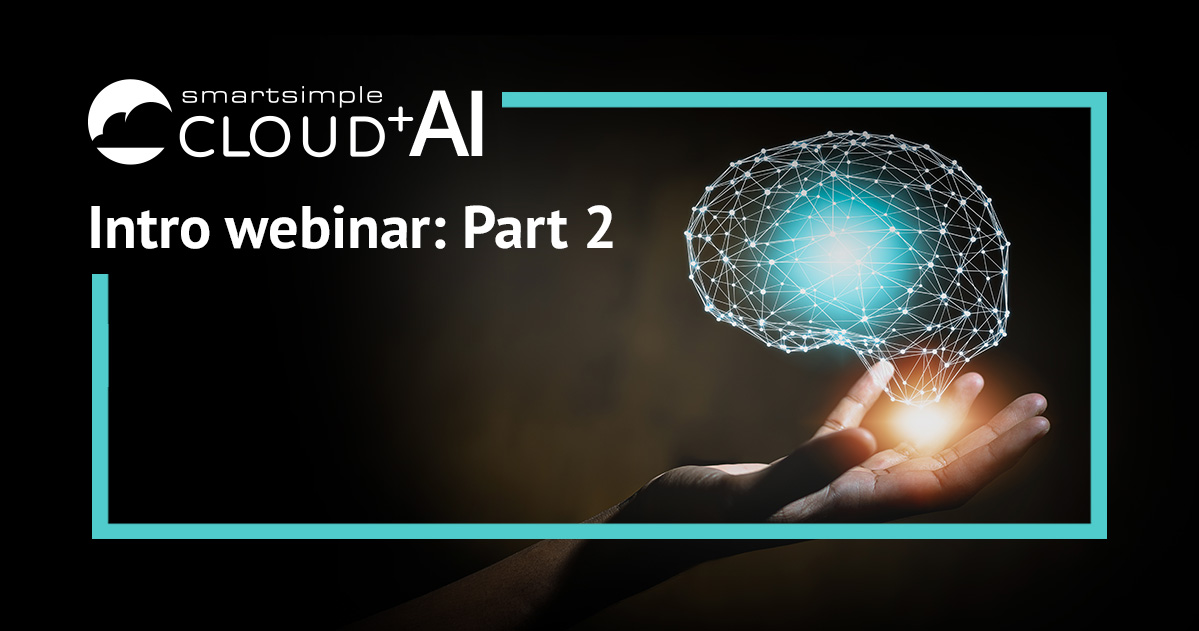 Experience the future of work with SmartSimple Cloud +AI. Our second SmartSimple Cloud + AI webinar, on April 19th, hosted by Greg Stanley, Director, Platform Solutions, and Garrett Alford, Sr. Platform Solutions Manager, showcased this game-changing tool that transforms the way organizations manage processes.
During the webinar, they shared groundbreaking features like +AI assisted tagging of applications and organizations, personalized and tone appropriate document generation, dynamic language translation, auto-generated summaries and the new interactive 'Work with +AI' mode.
Interested in learning more about SmartSimple Cloud +AI and how it can transform the way you work? Contact PlatformSolutions@smartsimple.com to learn more.
SmartSimple Cloud +AI's Supported Application Process: Maximize equibility and inclusion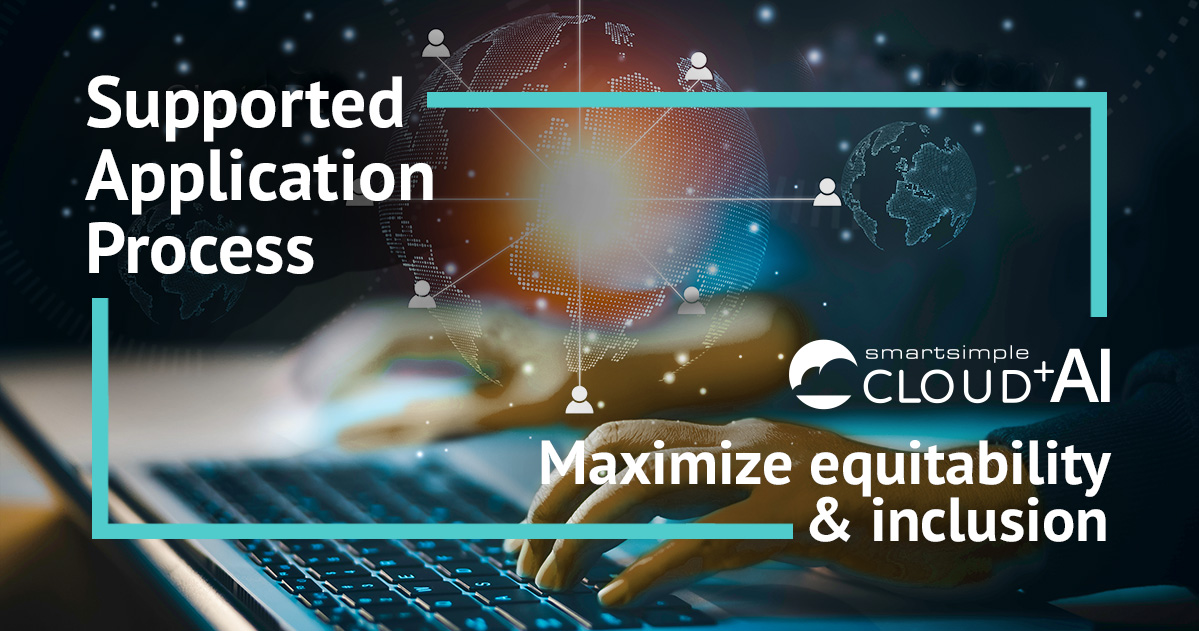 This month we launched the Supported Application Process, an AI-powered solution that benefits both grantees and grantmakers by offering guidance to grant applicants and promoting equitability in the application process. Visit our blog post to learn more about how you and your organization can elevate your grantmaking impact and efficiency with SmartSimple Cloud +AI.
SmartSimple returns to PEAK conference 2023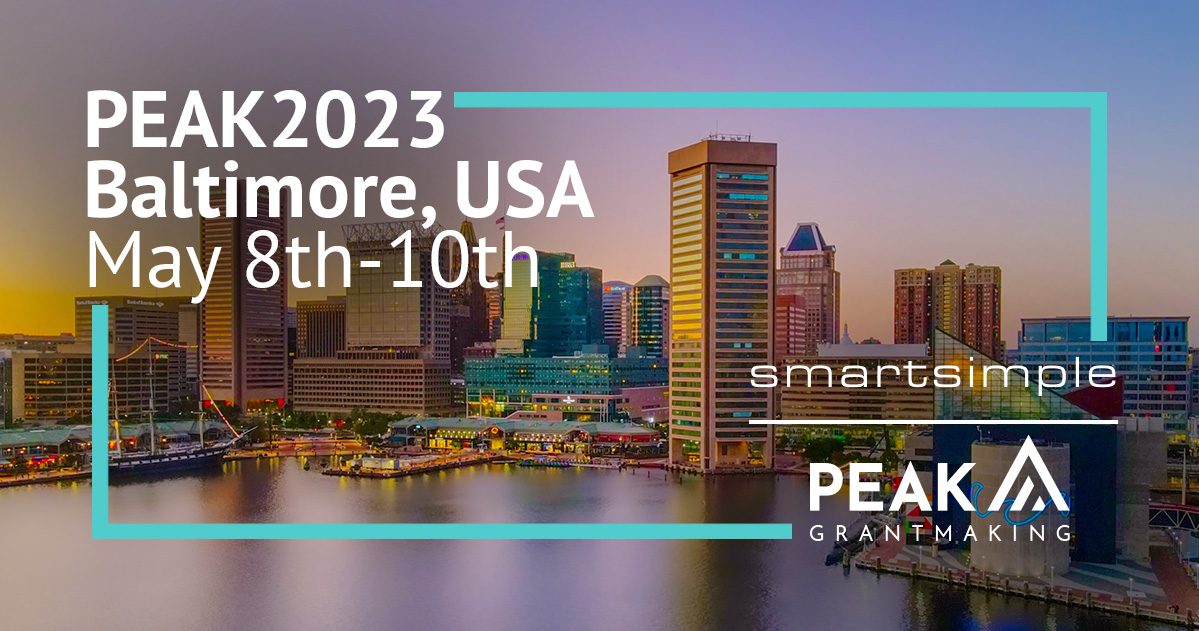 SmartSimple will be returning to exhibit at this year's PEAK conference in Baltimore, USA, from May 8th to 10th. This event is one of the largest gatherings in the grants management industry and we're thrilled to showcase SmartSimple Cloud for Grants Management.

Attending the conference gives us the opportunity to connect with existing clients, network with potential prospects, and gain valuable insight into the latest industry trends. We'll have a strong team present, including Eric Lauer, Co-Founder & CEO, Greg Stanley, Director, Platform Solutions, Gary Modlin, Director, Business Development, and Todd Lapin, Director, Strategic Accounts. They are looking forward to meeting attendees and sharing our vision for the future of grants management.

If you're attending the event, be sure to visit our booth.
Join us in Barcelona for SmartSimple Unite 2023 -
Get your tickets today!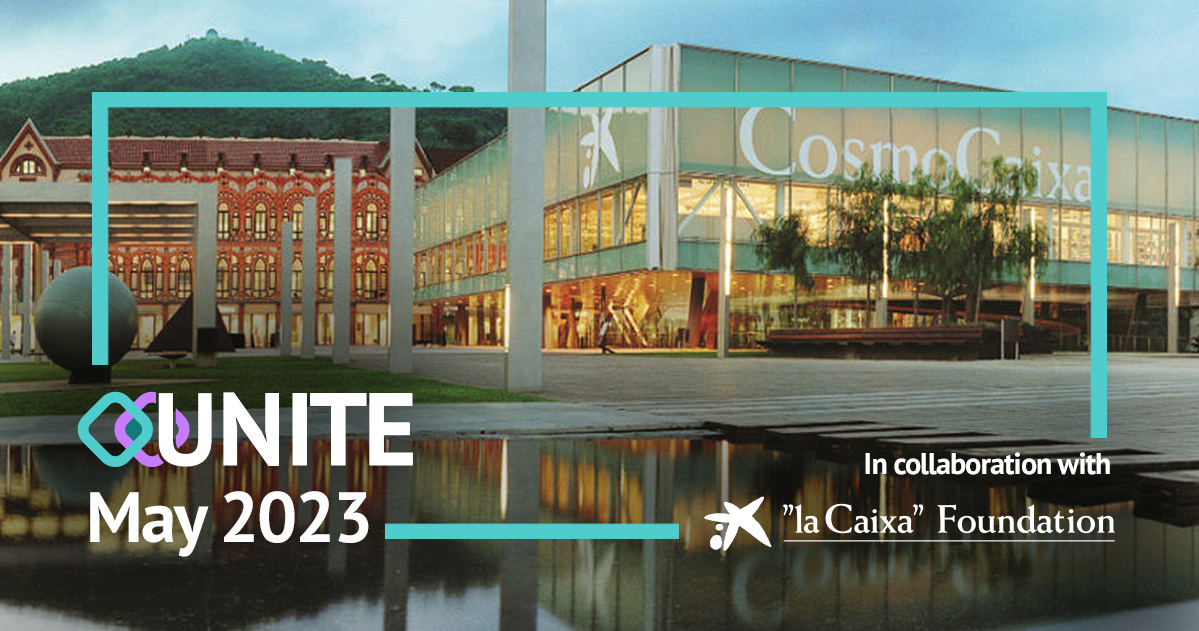 Join us in Barcelona this May 25th to 26th for an unforgettable experience. This year's agenda will feature client-driven panels, targeted discussion groups, and lots of time to network. At SmartSimple Unite, you'll have the chance to connect with like-minded individuals, share your experiences, and learn from industry experts.
Our venue, the CosmoCaixa, is known for being one of Europe's best and most state-of-the-art science museums. With interactive exhibits and cutting-edge technology, it's the perfect location for our conference. We invite you to join us for our opening cocktail night in front of the breathtaking "Flooded Forest" on the evening of the 24th. You'll also get a private tour of the museum after hours.
Tickets are selling fast, so make sure to secure your spot today. We can't wait to see you in Barcelona!
Thanks for joining us for another edition of our newsletter! We love sharing all of our exciting updates and opportunities with you. Be sure to check out our blog for more in-depth information, and don't forget to follow us on LinkedIn, Twitter and Youtube for the latest news and insights.
The SmartSimple Team
Stay connected with SmartSimple's Events page
Stay up to date with the latest events. Our Events page will keep you up to date with everything you need to know.
At a glance
PEAK 2023:

May 8th to 10th
Unite 2023:

May 25th to 26th
July 2023 Upgrade:

Starting Thursday, July 13th
ELEVATE 2023:

October 9th to 11th