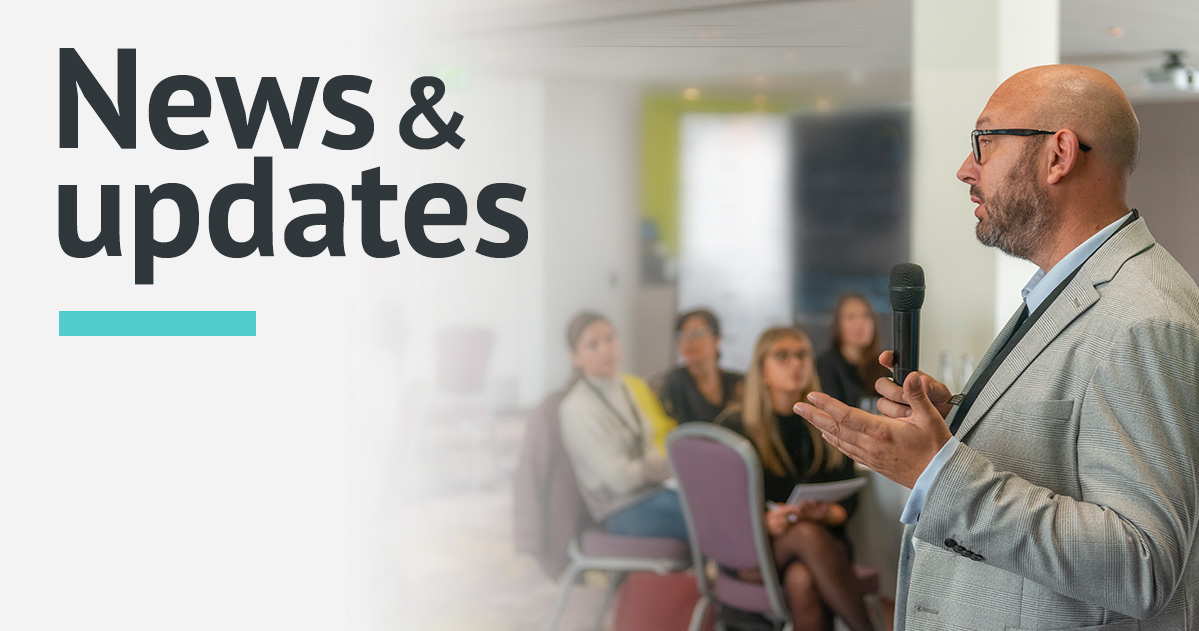 In this edition of our newsletter, we're excited to share the latest updates. Join us as we highlight the countdown to our highly-anticipated community conference, Elevate 2023, explore the innovative enhancements in our July upgrade, and don't miss the spotlight on CORDAP's game-changing use of SmartSimple Cloud for Grants Management.

Let's jump in!
Exciting news!
We've donated pre-loved laptops to Michael Nugent's program in Lusaka, Zambia, supporting the digital empowerment of local residents and bridging the digital divide. Here at SmartSimple, we're happy to play a pivotal role in digital upliftment and support this transformative work in a rapidly digitizing world. These devices form the backbone of Michael Nugent's computer literacy program, a vital initiative since 2008 that provides essential digital skills to local residents.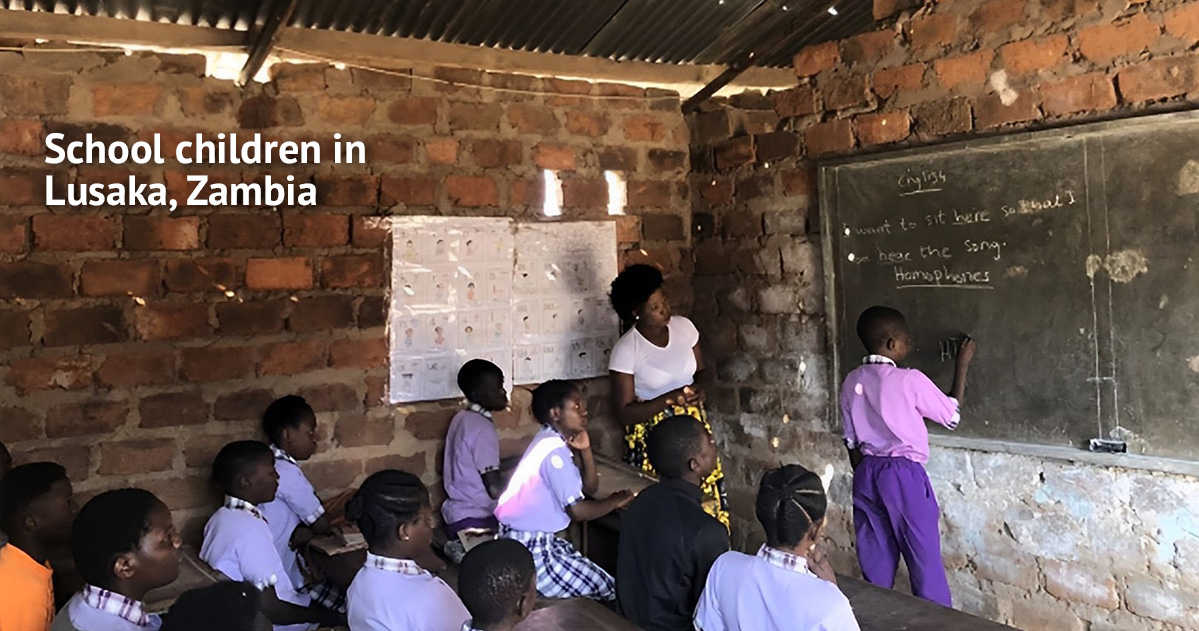 Our support team recently gathered in Toronto for a dynamic meetup. With enhanced skills and strengthened relationships, we're prepared to provide you with even more exceptional support, committed to deliver excellence every step of the way!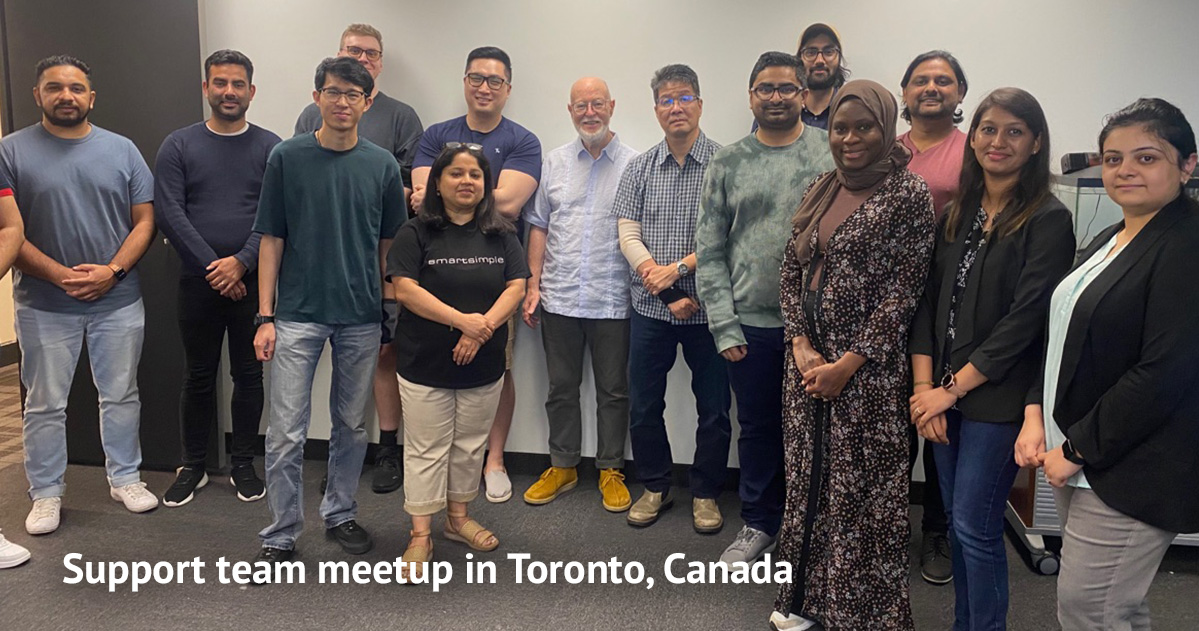 Don't miss out! Early bird discount for Elevate 2023 ending soon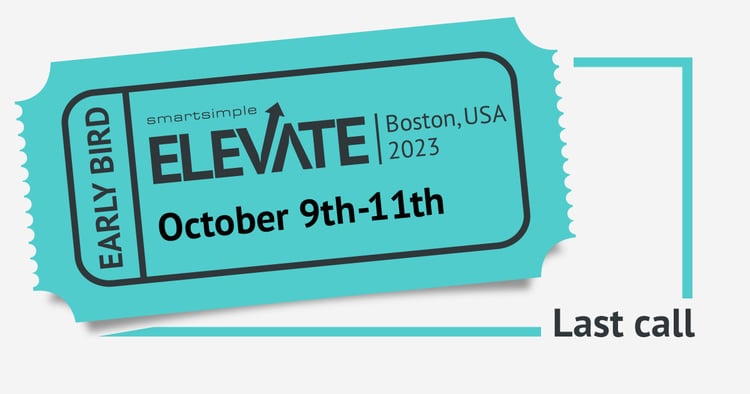 The countdown is on for our community conference, Elevate 2023, and we don't want you to miss out on our early bird offer! From October 9th to 11th in Boston, USA, SmartSimple Cloud users and partners will gather from across the globe. By attending, you'll gain insights into best practices, explore our latest cloud-based innovations, and peek into our product pipeline.
Secure your ticket at a reduced price of $300 USD using the promo code SmSElevateEarly23. Hurry though, the regular pricing of $550 USD starts August 2nd.
July 2023 SmartSimple Cloud Upgrade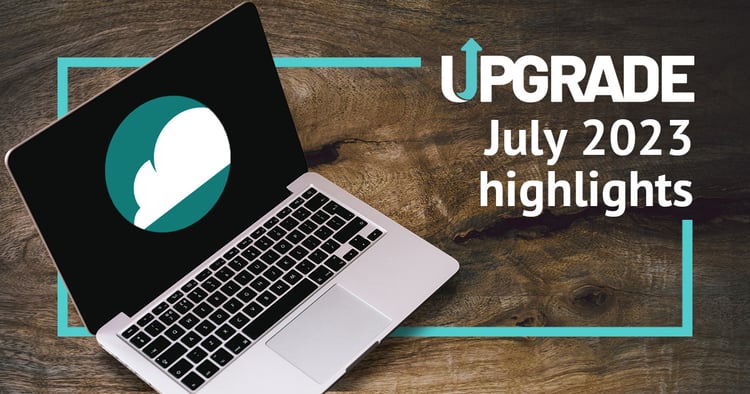 Our July 2023 SmartSimple Cloud upgrade is here, and it's loaded with exciting new features and ehancements. These features include Temporary User Delegation, ideal for when a team member is out of the office temporarily, and enhanced AI functionality, including the ability for users to choose from templates for common tasks. These updates will empower you with even more control and flexibility, taking your productivity to new heights.
To learn more about the enhancements and features we've packed into this upgrade, check out our blog post.
Usergroup: Highlights from SmartSimple Connect, UK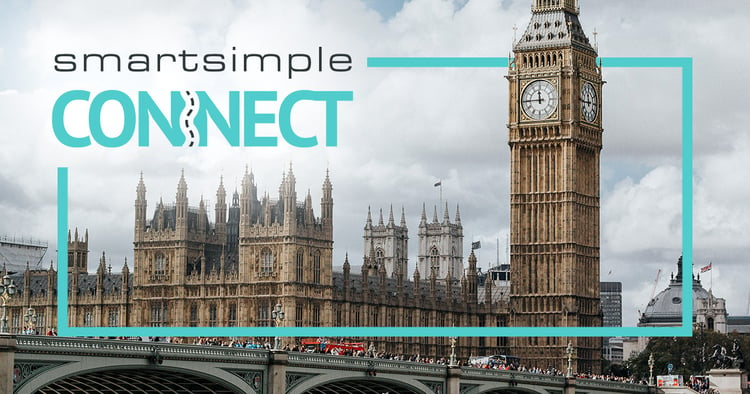 In London, UK, after a three-year break, SmartSimple Connect returned, bringing together clients for an event focused on personal connections and fostering a strong community spirit. Attendees were intrigued by the launch of SmartSimple Cloud's latest upgrade features and the introduction of SmartSimple Cloud +AI, actively engaging in discussions and gaining exclusive sneak peeks into upcoming additions.
We extend sincere thanks to our esteemed clients, including ACCIA, Baobab Foundation, CML, GrantScape, Help Musicians, Joseph Rowntree Charitable Trust, Marine Stewardship Council, Maudsley Charity, and Muscular Dystrophy UK, for coming along and engaging. Together, in London, we reignited the flames of collaboration and set the stage for an exciting future!
Next stop, Boston, USA!
Webinar: SmartSimple at TAG's AI Solutions Showcase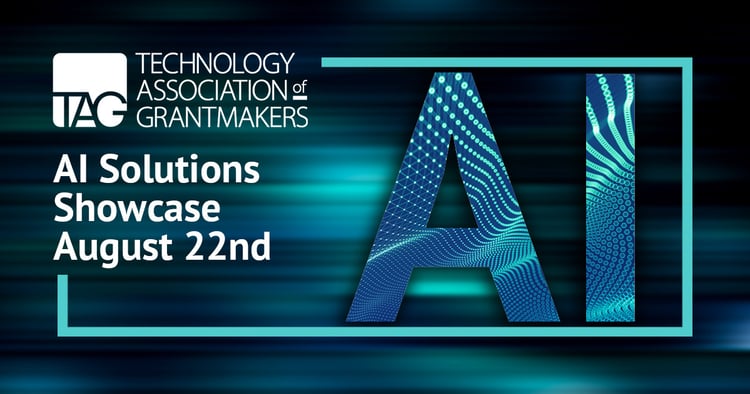 Greg Stanley, Director of Platform Solutions at SmartSimple, will be presenting at TAG's AI Solutions Showcase happening on August 22nd, 2023. This online webinar is a great opportunity to explore how artificial intelligence is making waves in the realm of philanthropy.
Register to join Greg and learn more about the latest SmartSimple Cloud +AI's functionality and developments.

Client Spotlight: CORDAP and their innovative use of SmartSimple Cloud for Grants Management
Coral Research and Development Accelerator Platform (CORDAP), a valued SmartSimple client since 2022, exemplifies the power of technology when managing complex grant processes. We recently had the pleasure of speaking to Ebtisam Bakhsh, a key representative of CORDAP whom we were delighted to meet at the SmartSimple Unite community conference in Barcelona this year.
In this client spotlight, we're taking a closer look at how CORDAP has utilized SmartSimple Cloud for Grants Management to streamline and optimize every step of its granting process, from pre-proposal submissions to comprehensive review sessions. Thanks to the flexible and customizable nature of SmartSimple Cloud, CORDAP has been able to design the system around its unique requirements, greatly enhancing the efficiency of its grants management workflow.
CORDAP: A beacon of hope for the world's corals
In 2020, the G20 launched the Coral Research & Development Accelerator Platform (CORDAP) to expedite research and development (R&D) solutions designed to preserve the world's corals. The dire need to halt the loss of corals and safeguard these critical marine habitats against continuous climate change demands swift delivery of advanced science and technology and the development of future-ready solutions. CORDAP aspires to serve as a global conduit, bringing together top minds from various disciplines to boost international R&D efforts.
The objective is to provide the necessary technologies and innovations to ensure a future for corals and reefs. Some key goals of CORDAP include:
Accelerating global R&D and related capacities to combat the projected losses of corals.
Boosting cooperation among G20 members and with non-member countries on coral reef conservation, protection, and restoration to meet the 2030 Agenda for Sustainable Development targets.
Backing the UN Decade of Ecosystem Restoration (2021-2030), the UN Decade of Ocean Science (2021-2030), and the implementation of the United Nations Environment Assembly Resolution 4/13 on sustainable coral reef management and the Kunming-Montreal Global Biodiversity Framework.
Spurring innovation, particularly in the development of technical solutions that address the current shortcomings in tackling the crisis facing coral reefs.
To learn more about CORDAP, visit cordap.org.
A word from CORDAP's Ebtisam Bakhsh
Reflecting on their use of SmartSimple Cloud for Grants Management, Ebtisam from CORDAP says, "Our organization utilizes SmartSimple Cloud to manage all aspects of our grant process, from start to finish. The journey begins with pre-proposal submissions via concept notes, which undergo initial screening by our review team before narrowing down potential grantees for full proposal submission invitations. Afterward, grantees can provide more detailed outlines of their projects. Two to three remote reviewers assess each proposal before they're revisited by our internal experts who consider these evaluations during another round of deliberation. Eventually, we host a comprehensive review session where we approve exceptional initiatives worth financing. We love using SmartSimple Cloud as we have complete flexibility to design the system around our process including the stages, forms, and workflows."
It's Client Spotlights like these that underscore the transformative power of SmartSimple Cloud in optimizing grant processes, enabling organizations like CORDAP to focus more on their world-changing missions.
Is your organization in need of a solution to manage all aspects of your granting process, like CORDAP? Connect with us today to learn more about how SmartSimple Cloud for Grants Management could be the solution for your organization.
See you in August!
Thank you for being part of our newsletter community! Don't miss out on our blog, where you can explore SmartSimple and all it has to offer.

Stay connected with us on LinkedIn, Twitter and Youtube to stay up-to-date with the latest news and updates. Your support and engagement mean the world to us!
The SmartSimple Team
Stay connected with SmartSimple's Events page
Stay up to date with the latest events. Our Events page will keep you up to date with everything you need to know.
At a glance
TAG's AI Solutions Showcase:

August 22nd
ELEVATE 2023:

October 9th-11th
November Upgrade:

November 20th