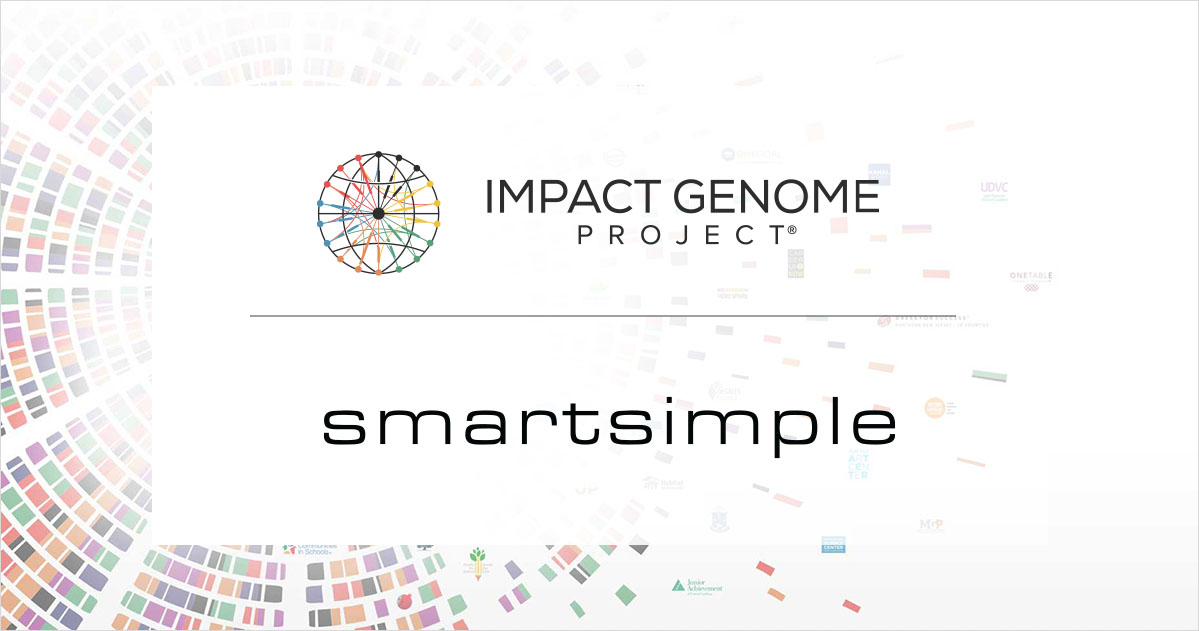 Today we took another step in helping our clients make greater impact faster.
We're proud to announce that SmartSimple Cloud is officially the first grants management system to integrate with the Impact Genome Project's universal impact registry. For our grantmaking clients, this integration will make impact reporting more streamlined and effective. It also makes due diligence far more efficient, which is the key to a successful trust-based grantmaking strategy.
Meanwhile, nonprofits will benefit from a significantly reduced administrative burden that typically accompanies grant applications and reporting.
To read the full press release on our announcement, click here.
What is the Impact Genome's Universal Impact Registry?
The Impact Genome's universal impact registry is a repository that stores all of a nonprofit's beneficiaries, operations, theory of change, program design and impacts, as well as quality of evidence in one system.
Overall, the universal impact registry has more than two million nonprofit organizations stored, with 130 social impact outcomes tracked.
Supporting Trust-Based Philanthropy and creating more comprehensive impact reporting
The breadth and richness of the data from the registry means grantmakers can significantly reduce the time they spend finding new grantees and conducting due diligence on them. For grantmakers that have adopted a trust-based approach, the registry will be a powerful tool.
What's more, the registry enables grantmakers to paint a more complete and accurate picture of their funding impact by aggregating outcomes data across an entire portfolio of grants.
Opening New Doors While Relieving Nonprofits' Administrative Burden from Grant Applications and Reports
The universal impact registry helps nonprofits that are already time-strapped and resource-short. With the registry storing all key data in one place, nonprofits can save a significant amount of time on grant applications and reports.
The registry also makes it easier for nonprofits to be found by grantmakers, improving each nonprofit's chance of securing funding.
Creating More Effective, Equitable Grantmaking through Technology
Powering the integration is an out-of-the-box solution developed by Re-Solved that connects grants management processes with the Impact Genome's impact measurement tools and methodology.
For us, integrating with the Impact Genome Project is just the latest in our efforts to extend the functionality of SmartSimple Cloud to create better grantmaking.
As co-founder and COO Mike Reid explains,
"We are now better able to help our grantmaking clients create more equitable practices and significantly elevate their social reporting".
Learn More About How the Impact Genome Can Help You
We'll be hosting several virtual events showcasing the Impact Genome integration. Be sure you sign up for the upcoming webinar to learn more.
You can also contact us at info@smartsimple.com.