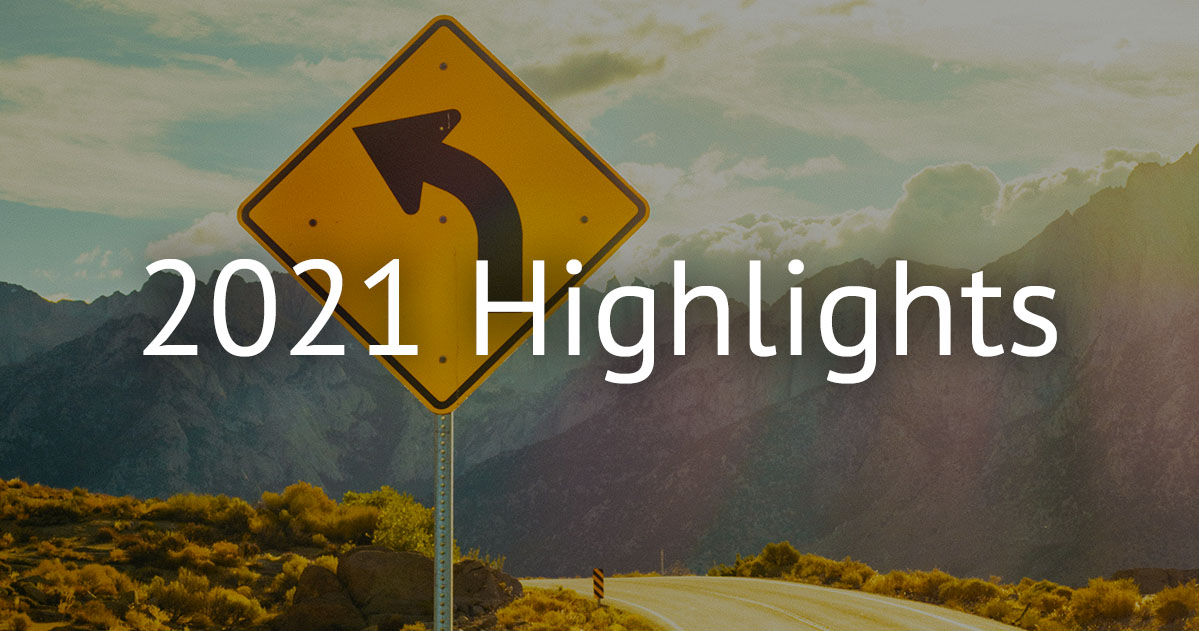 2021 was a challenging year. While the pandemic continued to impact nearly every aspect of our lives, it was not a lost year here at SmartSimple. In fact, quite the opposite.

2021 was a year to celebrate. With a long list of successes, we're an even stronger global technology provider heading into 2022.

As we continue to level up, the objective remains the same: to ensure that your impact is felt meaningfully in the communities you serve.

With that in mind, we wanted to share with you some of the successes that made 2021 a banner year here for us.
New Developments
Like many organizations, 2021 ushered in a great deal of change. For us, it brought a long list of new developments that have strengthened our capacity to support our clients.

Fuelling new developments was our continued investment in the Platform Solutions Team. Launched in early 2020, the team has become essential to our continued growth.

We doubled down in 2021 and invested more resources into the team to ensure greater sales support, improved client training, and client-focused product management.
Platform Brand Update - Introducing SmartSimple Cloud
In 2021, we underwent a brand update and introduced SmartSimple Cloud to the world. As a practical matter, the name helps differentiate any discussion about SmartSimple the company and our core technology. More importantly, the name 'SmartSimple Cloud' simplifies communications around the many solutions we provide out of our core technology platform.
Marketplace Launch
To support our grander vision of SmartSimple Cloud, we launched the SmartSimple Cloud Marketplace. The Marketplace looks to centralize solutions, features, integrations and value-added services in one place. As the Marketplace matures, clients will be able to discover any tool, feature or solution to extend what they can do in their SmartSimple Cloud system.
Official Salesforce ISV Partner & Launch of SmartSimple Cloud for Salesforce®
2021 saw us deepen a number of our existing partnerships and forge new ones. One of the most exciting new partnerships is our strategic partnership with Salesforce. Joining forces with the world's number one CRM enables us to integrate more deeply with Salesforce CRM, which is used by over 80% of the world's Fortune 500 companies.

One of our most exciting developments of the year was the launch of SmartSimple Cloud for Salesforce® in their Appexchange. Over 150,000 organizations use Salesforce. Launching a solution in Salesforce's Appexchange was a logical next step. The integration seamlessly complements Salesforce CRM, enabling organizations to get the best of both platforms.
Our Global Footprint Got Bigger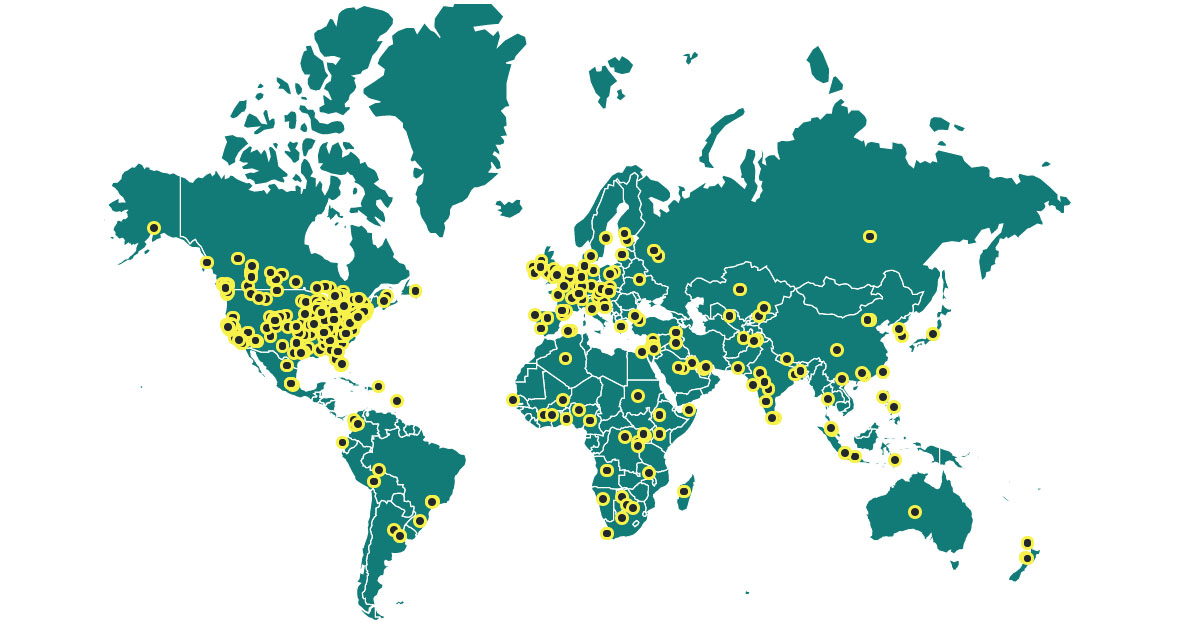 10 years ago, much of our business resided in Canada alone. Fast forward to 2021, while Canada remains important to us, the vast majority of our clients reside internationally.

This year alone we added an additional ten new countries to our Global Client list. As we move forward, we look to continue to expand our presence into more countries. In support of international expansion the updated list of supported languages now include:
Català (Catalan)
Čeština (Czech)
Cрпски (Serbian)
Dansk (Danish)
Deutsch (German)
English (UK)
English (US)
Español (Spanish)
Français (French - Canada)
Français (French - France)
Gaeilge (Irish)
Italiano (Italian)
Magyar (Hungarian)
Mакедонски (Macedonian)
Nederlands (Dutch)
Português (Portuguese)
Pусский язы́к (Russian)
Română (Romanian)
Shqip (Albanian)
Slovenčina (Slovak)
Suomen kieli (Finnish)
Svenska (Swedish)
Tiếng Việt (Vietnamese)
Türkçe (Turkish)
Yкраїнська (Ukrainian)
Български (Bulgarian)
العربية (Arabic)
नेपाली (Nepali)
हिंदी (Hindi)
ქართული (Georgian)
日本語 (Japanese)
正體中文 (Traditional Chinese)
한국어 (Korean)
ISO27001 Certified
Earlier in the year we officially received our ISO27001 certification, issued by BSI (British Standards Institute). It was a challenging process to receive certification, but one that was well worth it. Globally recognized, ISO27001 is an important credential that outlines a standard set of specifications for information security management systems (ISMSs).

For SmartSimple, the ISO2001 certification strengthens our position as a global technology provider who continues to prove our commitment to information security management best practices.
Continued Investment in the US
Even with significant global growth we continue to invest in supporting our US-based clients, which includes many important and well established client relationships.
The New US Operations Team
In 2021, we announced the formation of the US Operations Team. For us, this formalized recognition that the US business is unique unto its own, and requires a dedicated layer of support.

Led by President of US Operations Dan Eardley, we'll continue to scale the team in order to provide the resources to effectively support our entire US client base.
America's Charities Engage CSR Solution Powered by SmartSimple Cloud
We have collaborated with America's Charities since 2019. During that time we helped America's Charities develop their own CSR solution, powered by SmartSimple Cloud.

In 2021, we launched our first set of clients running on America's Charities Engage CSR Solution. As one of the industry's most well-respected, established brands, America's Charities figures to see many more organizations adopt America's Charities Engage solution.


Wins with AWS
We were excited to be named Amazon Web Services (AWS) Social Impact Partner of the Year. AWS selected SmartSimple for demonstrating "deep commitment to providing technology that has great social impact with proven customer success".

We're particularly proud of this recognition because it underscores the role we play in supporting the meaningful work our clients do. For us, this award is shared with every client we partner with.

Recently, Vancouver Foundation was spotlighted in a case study published on AWS.com. The story focuses on the great success Vancouver Foundation had in rapidly creating and executing a Community Response Fund (CRF) in supporting local communities in British Columbia, Canada during the first wave of pandemic lockdowns.
We Are ORCID Certified
In May, we officially became a Certified Service Provider for ORCID. ORCID provides an identification system for researchers that manages their professional information — affiliations, grants, publications, peer reviews, and others. Research institutes and research funders using solutions like SmartSimple Cloud for Research Grants Management, integrate ORCID's ID system to populate researcher data including relevant contributions, saving time and hassle, and reducing the risk of errors.

For SmartSimple, the ORCID partnership is another step in deepening the functionality of our research grants management solution, already considered one of the most comprehensive solutions available today.
Supporting our People
Perhaps our most important achievement in 2021 is the development of a number of key programs aimed at supporting our employees.

Throughout the year, we've continued our commitment to their physical and mental well-being by investing in additional health programs like Headspace subscriptions for employees, mental health huddles, the introduction of a work doula as well as providing two paid time off during global recharge periods.

The health and well-being of our team is of paramount importance, and we'll continue to invest in them ensuring we provide a safe and nurturing work environment that enables them to bring their best every day.
More to Come in 2022
While the world continues to deal with uncertainty, we enter 2022 with renewed excitement. 2021 ended with a bang. We intend to keep the momentum going. As part of our community, we wish you continued success in 2022.
Have a question about SmartSimple Cloud solutions?
If you'd like to learn more about SmartSimple Cloud, contact us at any time to set up a discovery call.