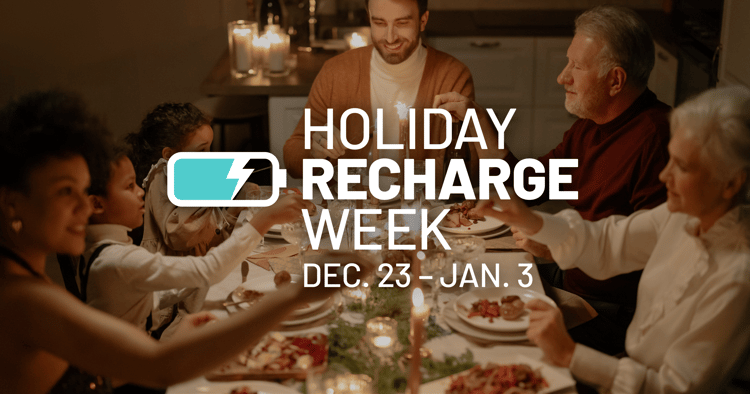 We are so thankful for all that we've been able to accomplish this year. Like most companies, none of our success would be possible without the terrific work our team delivers day in, day out.
That's why we are happy to announce that SmartSimple Holiday Recharge Week for our employees is back. From December 23 - January 3, SmartSimple will be closing most day-to-day operations. It's an opportunity for our team to spend time with family and catch up on some much-needed rest.
Our people work tirelessly to develop, deliver, and support our platform and clients year-round. We recognize their efforts and prioritize their mental and physical health above all else.
Throughout the year, we offer a variety of therapeutic programs and activities designed to help our team manage their mental health. But we also recognize the importance of the holiday season, and quite simply, the need for rest.
Holiday Recharge Week is an important gesture we can offer to our team, and we appreciate your support during the initiative.
How will this impact support coverage?

While most day-to-day operations will be closed, our Support team will continue to provide coverage for emergency/critical issues every day from 3:00 am ET - 00:00 am ET (8:00 am GMT - 5:00 pm GMT) starting December 23 until January 3. The team will be unavailable all day Monday, December 26, and Monday, January 2.
All non-critical or high-impact severity support tickets and emails will be responded to in the following week starting Tuesday, January 3.
Holiday Recharge Week Coverage (Dec. 23 - Jan. 3):
Emergency/critical issues - 3 am ET - 00:00 am ET (8:00 am GMT - 5:00 pm GMT)
No coverage (all day) - Monday, December 27 and Monday, January 2
To Keep in Mind during Holiday Recharge Week:
Live chat coverage will NOT be available.
Need to get in touch with our Support Team?

You can reach Support with any inquiries by calling toll-free at 1.866.239.0991 or by email at support@smartsimple.com.
As always, for any Level 1 - emergency/critical issues, please contact us at critical@smartsimple.com.
From our family to yours, we hope you all have a safe, happy holiday season.