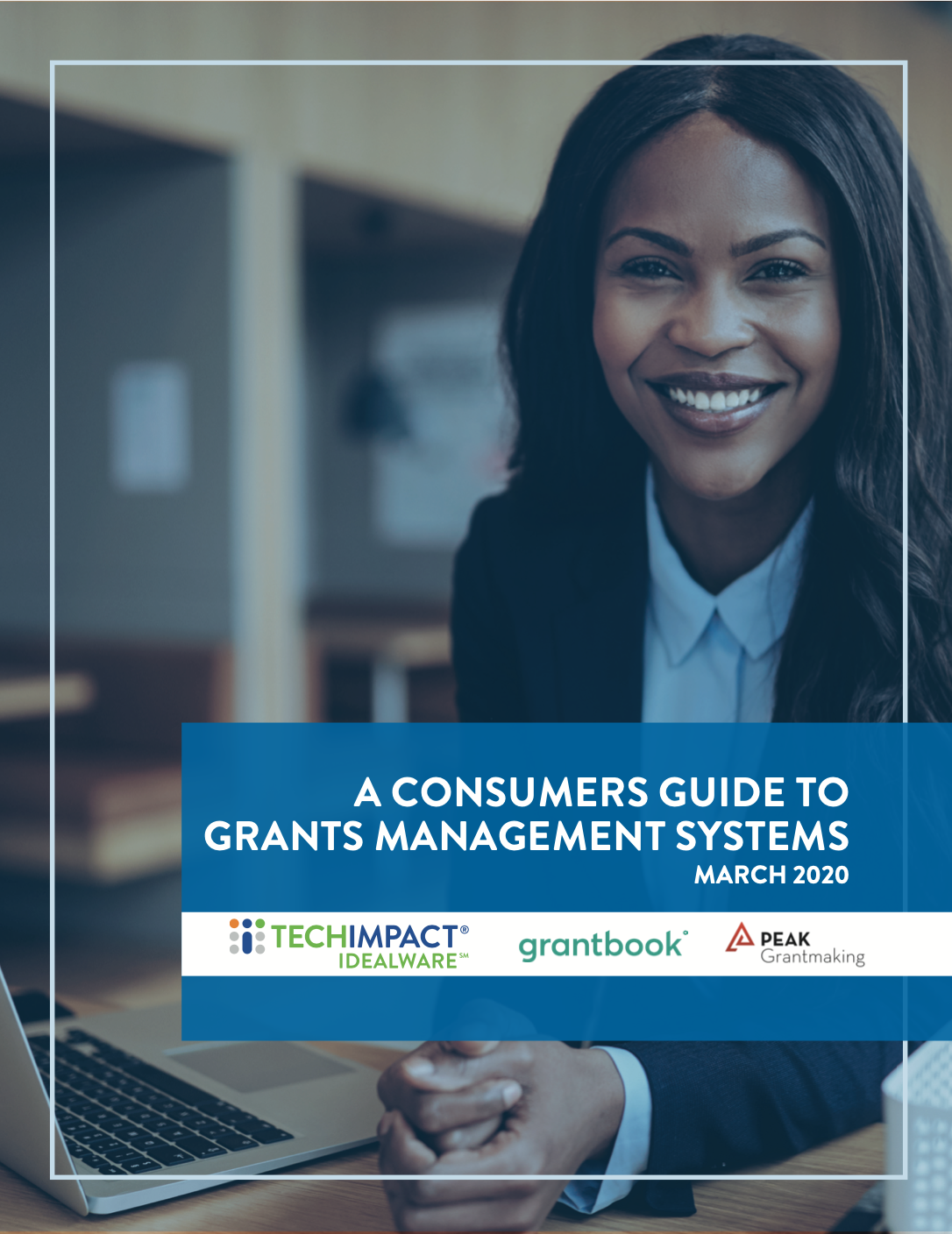 After four years since the last edition, Tech Impact's Idealware released the newest version of A Consumer's Guide to Grants Management Systems to help inform grantmaking organizations on their IT decisions. SmartSimple was one of 14 leading software providers that were reviewed and we've been profiled in every subsequent version of the guide since 2011.


This consumer guide – widely accoladed as the foremost report on grantmaking systems – reviewed grants management solutions on their ability to support 12 key areas within the grantmaking lifecycle (from contact records and grants applications through to reporting). The guide also evaluated vendors on their user experience, support, and training services.


While we encourage you to download and review the report yourself, we've pulled out some highlights that you'll find interesting, especially if you've considered or are currently using SmartSimple for your grantmaking needs.


Over 80% of the guide's survey respondents recommend SmartSimple


This year's edition of the consumers guide also included a customer experience survey that Tech Impact's Idealware sent out to current software users who voluntarily responded to and scored the featured solution providers on implementation, training, and support.


Of the 63 SmartSimple clients who responded to the customer experience survey, over 80% said they would recommend SmartSimple. This serves as a testament to our 97% client retention rate through our focus on client support. This response also speaks to our 8.8/10 Net Promoter Score – an industry-standard customer loyalty metric that places us in the top tier of software providers.


Amongst the 13 other software providers reviewed in the report that had 25 or more customer experience survey respondents, SmartSimple tied for the second highest in both support and implementation.


In our opinion, the best grants management systems are ones that not only authentically translate the technology requirements of the grantmaker, but also continue to provide all its users with a strong level of human support.


"[SmartSimple] provides technical support to clients via phone, email, and live agent chat 24 hours a day, five days a week. Optional add-on Support360 provides technical support for applicants, reviewers, and grantees. Clients can select the types of training that meet their needs and budget, with training offered in-person, online via web conference, and online via video."


SmartSimple Cloud offers the highest number of Advanced features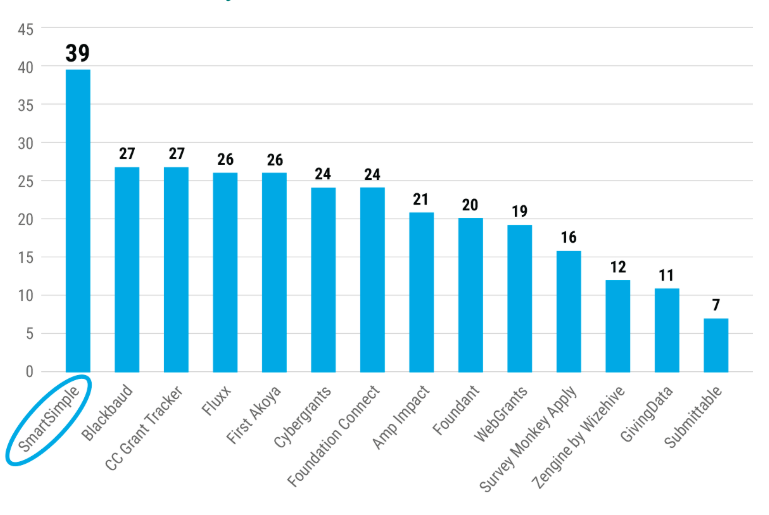 Based on the evaluations taken from pages 35-43 of the Comparison Charts within the Tech Impact's Idealware 2020 guide, SmartSimple Cloud comes equipped with the most number of Advanced rated features at 39 in total.

SmartSimple's platform technology, what we call SmartSimple Cloud, comes equipped with 39 Advanced features to support grantmakers throughout the lifecycle of their programs, according to the report. That's 44% more Advanced features than the second-highest rated solutions. In other words, SmartSimple Cloud was reviewed to have the most robust and flexible tools to handle every step of the grantmaking process, no matter how complex.

In fact, SmartSimple Cloud is the only technology reviewed in the guide that has Advanced features for all areas in the Application Review category. The guide reviewed each feature based on whether or not it meets the system requirements (grant applications, reviews, communications, etc) from Basic to Advanced.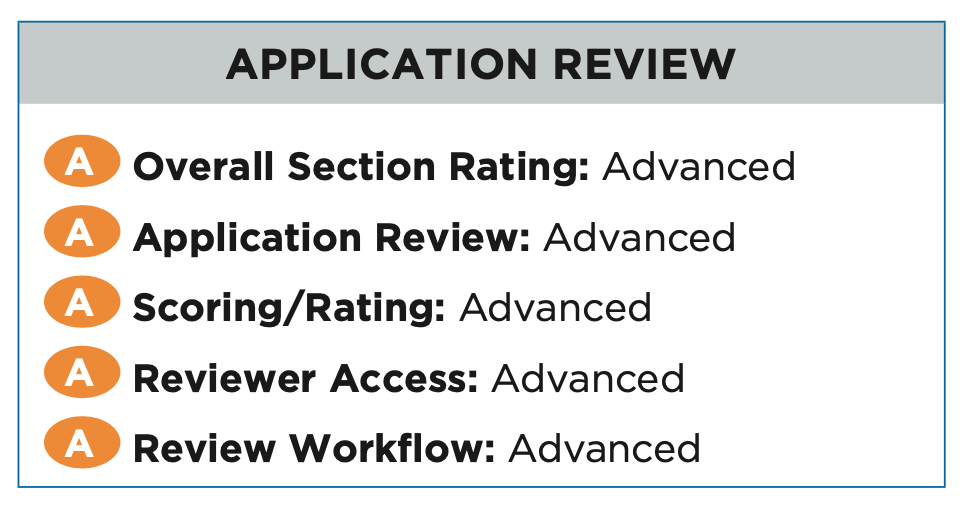 The guide pointed out SmartSimple Cloud's ability to manage different scoring schemes for different programs, as well as enabling system administrators to create multiple review workflows. Additional functionality was also highlighted:

"Reviewers can be assigned to applications individually or as part of a panel group and assignment can be automated so that the system will assign them based on a set of defined business guidelines. Reviewers can also complete reviews offline via a form created with the PDF parser and a user can upload the completed form to the system."

These features can be especially beneficial to high-volume grantmaking organizations operating various giving programs with multiple review processes at play. Managing application reviews can often be an administrative bottleneck for grantmakers, further complicated when collaborating with a large number of external reviewers, multiple review workflows, and a high volume of applications.

Entering the third decade of SmartSimple's existence, our technology has never stopped evolving to meet the needs of our grantmaking clients and the philanthropic sector, regardless of how complex the challenges have been. We believe that we've never been more equipped to empower grantmakers with next-generation solutions and support they need for the new era of giving.

We're honored to again be highlighted in this year's edition of A Consumer's Guide to Grants Management and hold it as proof to being an industry leader of grantmaking solutions.

Interested in scheduling a demo or learning more about SmartSimple Cloud for your grantmaking needs? Get in touch with us.