For years, the Technology Association of Grantmakers (TAG) has been the driving force in progressing thoughtful dialogue around technology-related topics in philanthropy. As long-standing partners with TAG, we're excited to be joining forces with them again for the year's biggest conference on philanthropic tech.
TAG2022 Conference - November 14-16th

Next week, we'll be traveling down to San Antonio, Texas for the 2022 TAG annual conference. It marks the first time in nearly three years that TAG last held its annual conference in-person.
As gold level sponsors, we're excited to be participating as exhibitors, eager to engage in meaningful conversations and reconnect with technology professionals in philanthropy.
Todd Lapin, Gary Modlin and Greg Stanley from our team  are very excited to present our SmartSimple Grants Management solution in person. Stop by and say hi!

Grant management has seen a radical progression since the grantmaking community last gathered for the TAG conference, much of it driven by the transformation in philanthropy tech.
As the premier event focused on progressing discussions in philanthropy tech, TAG2022 is a unique opportunity for us to demonstrate how SmartSimple Cloud continues to be at the forefront of that.
At TAG2022, we'll be featuring SmartSimple for Grant Management, our award-winning solution that offers unparalleled personalization and automation to help grantmakers optimize their critical granting processes.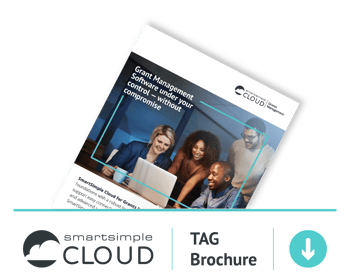 Join us for Drinks!

If you're attending TAG2022, be sure to drop by our exhibition booth! Our team will be showcasing some of the latest innovations from SmartSimple for Grant Management.
For those that are available to join us, we're also inviting clients out for happy hour at the BierGarten on the evening of November 15th. We'll be heading over at 5:30pm . We would love for you to attend, please contact tag22@smartsimple.com. Come for the drinks, stay for the stimulating conversation and friendly company!
Apart from these TAG events, we'll be participating in a number of other events both in North America and Europe.
Be sure to visit our Events page for a full list of upcoming conferences and events we'll be hosting.
SmartSimple Cloud for Grants Management: An Innovative Solution to push your grant process to the leading-edge

Rated one of the most advanced Grants Management Solutions in the market today, SmartSimple Cloud for Grants Management empowers grantmakers with a centralized suite of modules that can be tailored to your unique needs.
With SmartSimple Cloud for Grants Management, you can manage the entire grant lifecycle from under one roof. From grant proposals and submissions to approvals and reporting, SmartSimple Cloud for Grants Management drives efficiency, enabling you to be more impactful.
Learn more about SmartSimple Cloud for Grants Management.